Asantehene's 88-Year-Old Rolls Royce Shines at Thanksgiving Service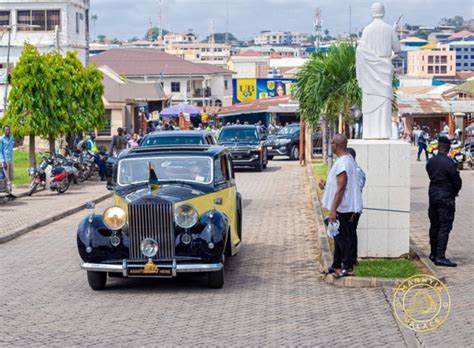 Asantehene's 88-Year-Old Rolls Royce Steals the Show at Thanksgiving Service.
In a majestic display of regality, the Asantehene, Otumfuo Osei Tutu II, graced the St. Peter's Basilica in Kumasi on Sunday, November 19, 2023, riding in his remarkable 88-year-old Rolls Royce. The occasion was the Thanksgiving Service held in memory of the late former First Lady, Theresa Aba Kufuor.
This antique Rolls Royce, steeped in history and tradition, holds ceremonial significance for Asante Kings and was originally purchased in the 1940s by the then Asantehene, Otumfuo Prempeh II. The distinctive vehicle, known as 20/25, is a rolling piece of Asante heritage, adorned with the traditional colors of Asanteman—Yellow, Black, and Green.
The historic Rolls Royce made its debut in 1935 at a durbar in Kumasi, commemorating the reunification of the Asante Confederacy under the reign of Otumfuo Sir Osei Agyeman Prempeh II. Safo Kantanka, an Asante historian, highlights that it was during this significant event that Prempeh II first utilized the vehicle.
ALSO READ: Now 'fired' NPP Members- See full List (ghanaeducation.org)
After Prempeh II's passing in 1970, Opoku Ware II succeeded him and continued to use the Rolls Royce for an impressive 29 years. The vehicle, now an iconic symbol of Asante history, became an integral part of royal processions and events.
In 1999, Osei Tutu II ascended to the throne as the third Asantehene to inherit and utilize this historic vehicle. The 88-year-old Rolls Royce, meticulously maintained and preserved, made a stunning appearance at the Thanksgiving Service, turning heads and evoking a sense of nostalgia for those familiar with its storied past.
The Asantehene's use of this vintage Rolls Royce not only pays homage to the rich history of the Asante people but also serves as a tangible link to the legacy of his predecessors. As the iconic vehicle continues to roll through time, it remains a symbol of tradition, continuity, and the enduring spirit of Asanteman.
Below is a picture of Asantehene's 88-Year-Old Rolls Royce

Share our Post on the topic "Asantehene's 88-Year-Old Rolls Royce Steals the Show at Thanksgiving Service"
Teachers Updates and Credible teacher-focused news – Ghana … (bing.com)