Check WAEC Withheld Results on Waecgh.org (New Feature)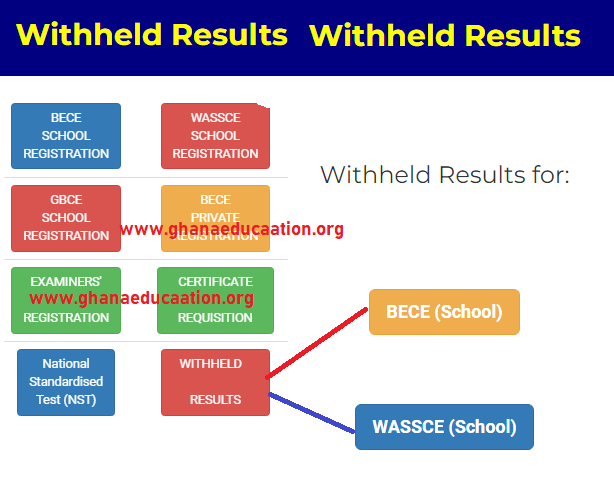 The West African Examination Council (WAEC) has introduced a new feature on its result-checking portal, waecgh. org, which allows candidates who can not access their BECE or WASSCE results to check if their results have been withheld by the council.
The newly introduced WAEC Withheld results Tab is subdivided into BECE (School)  and WASSCE (School) tabs. Since it is a new section on the portal, WAEC is expected to update it from time to time for each examination, including the Private WASSCE, BECE, and School WASSCE for 2022. A visit to the BECE or WASSCE section opens to a new page where withheld results and information regarding what candidates can do or are expected to do are outlined.
By clicking the link to a region, one can have full access to details of candidates whose BECE or WASSCE results have been withheld by WAEC.
READ: WASSCE 2022 Maths papers leaked – Students didn't leak, leave them alone (Public Opinion)
Each region has the names and index numbers of candidates whose results have not been released for one or more examination malpractice reasons.
The details provided by WAEC for such results on hold include the date, venue, and time that such candidates are expected to meet WAEC for the determination of the faith of their results.
Candidates who fail to turn up for the meeting with the WAEC officials will automatically have their withheld results cancelled. "Candidates are being informed that their refusal to honour this invitation shall not preclude the Council from making a final determination on the cases." the statement of WAEC on the portal indicated.
READ: Mankessim killing: Suspects confessed nurse was murdered for money rituals – Police
It is important that candidates attend this meeting to help WAEC to conclude its investigations into the alleged irregularities.
Listed candidates who took part in the Basic Education Certificate Examination (BECE) for School Candidates, 2021, and were allegedly involved in examination irregularities, were invited to the Kumasi Branch Office of The West African Examinations Council on 11th to 13th May 2022.
The last of such meetings held by WAEC for WASSCE 2021 candidates took place at the Accra Office of The West African Examinations Council from 11th to 13th May 2022.
How to check your WAEC Withheld results on Waecgh.org
To Check WAEC Withheld results on Waecgh.org go to the portal Waecgh.org.
If you are checking Withheld results for JHS graduates, click on BECE (School)
If you are checking Withheld results for SHS, click on WASSCE (School) or WASSCE (Private)
Click on the region you wrote the examination in.
Go through the PDF document using your index number or name.
If you find your name or index number or both, it means your results have been withheld.
Follow the procedure for attending the meeting as scheduled by WAEC.
Avoid all forms of examination malpractice and your name will never be on any of the withheld results lists.
[wp-rss-aggregator]