Download New 2023 School Selection Form Here: Get It Now!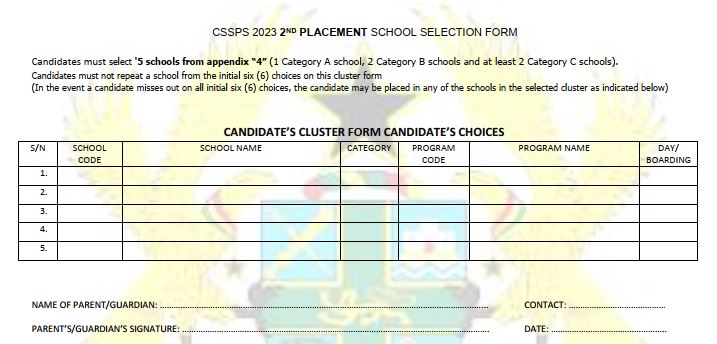 You can now Download the New 2023 School Selection Form Here. 
The New 2023 School Selection System and form released by the GES allows 2023 BECE graduates to select up to 11 schools divided into two groups.
The first set of schools is to be entered into the CSSPS 2023 1st PLACEMENT SCHOOL SELECTION FORM. In all, six schools will be selected based on the guidelines here New 2023 School Guidelines 
After that, that candidate will have to select another 5 schools. The rules for the second set of schools are as follows.
Select only 1 Category A school
Select up to 2 Category B schools
Select at least 2 Category C schools)
READ: 2023 School Selection Video Released by GES (Must Watch)
The above means that a candidate does not necessarily have to choose a school from category A when using the section school selection form and that a candidate can select any number of schools from category C but not less than 2 from that.
Click to download the form here – DOWNLOAD NOW
Candidates who do not get placed in any of the 11 schools selected may have to use the Self Placement Module if the GES permits them.
Note that it is never compulsory to choose a Category A school as your ward's first choice. Schools in category A are only in the group by the fact that the schools have good facilities and not because they are the best at the WASSCE. There are excellent schools in category B that parents should consider as their ward's first choice.
Good luck to all parents and candidates as they make informed choices in the 2023 School Selection and Placement system.
Remember that the first set of schools is to be entered into the CSSPS 2023 1st PLACEMENT SCHOOL SELECTION FORM. In all, six schools will be selected based on the guidelines here New 2023 School Guidelines