Ghana Education News Goes Global With The Introduction Of Its Multi Language News Feature (Read in over six languages)
Your Favour Ghana Education News website has gone global with the introduction Multi-Language languages news feature. What this means to our global audience is that they can now read our news and articles on Education, Scholarships, and others in their native international languages without being compelled to read in English.
We are confident that, this move will help our international readers access useful information and news in languages they are comfortable in apart from English.
The Ghana Education News Goes Multi Language Feature has added French, Spanish, Arabi, Hausa, Swahili, Simple Chinese, German, Italian, Portuguese, and other languages to the site.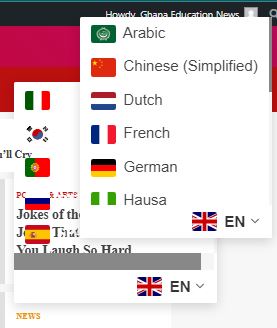 The feature ensures that the news item changes automatically to the language of your electronic device without you changing it. However, you can choose your preferred language and get the news you want to read delivered instantly in the new language of your choice.
This Ghana Education News Goes Multi-Language News Feature offers global readers several benefits
Learn about different cultures: By writing about topics that are relevant to different cultures, our readers can learn more about them. This can help you to become more culturally aware and sensitive.
Build a community: A multi-language blog like GhanaEducation.org can help build a community of readers from all over the world. This can be a great way to connect with people from different cultures and backgrounds.
Promote diversity and inclusion: A multi-language blog like Ghana Education News shows that the website is committed to diversity and inclusion. ant to attract readers and customers from all walks of life.
We hope this new Ghana  Multi-Language News Feature helps us communicate better with out global readers.