Ghana Education News July 2022 BECE Home Mock Results Out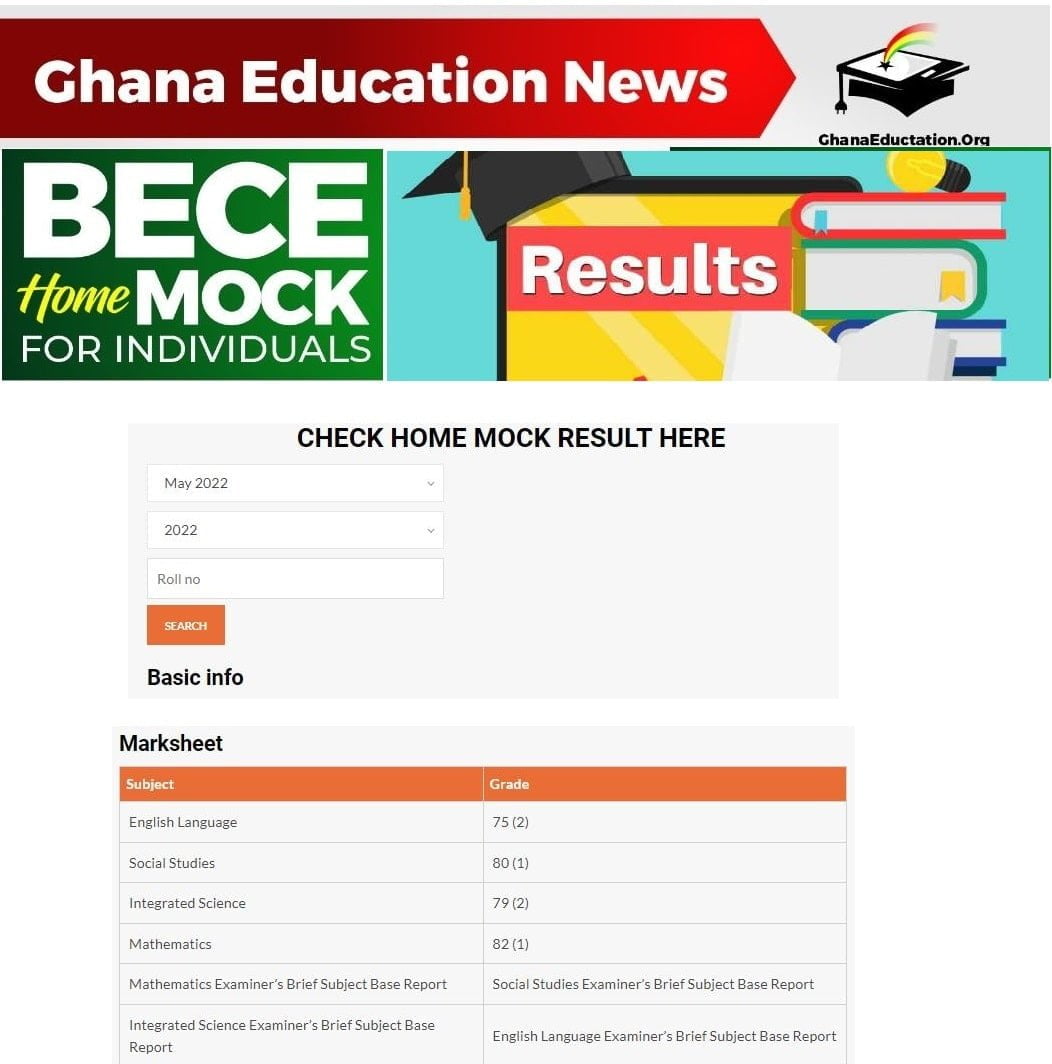 The July 2022 BECE Home Mock Results Have Been Released. Ghana Education News, your preferred education news portal, and BECE Home Mock experts wishes to announce to parents whose wards participated in the July 2022 edition of our mock that the results have been released and are accessible on our portal. The Mock was written by candidates from their homes across the country.
The July 2022 Home Mock was taken by students on the 30th and 31st of July 2022. The result released also comes with the chief examiner's report for each subject per student. We encourage parents and students to take the report seriously and make the needed corrections and adjustments as we get closer to the BECE in October.
Our novel mock for accessing BECE candidates is getting better and bigger, and the chief examiner's reports are helping parents and candidates to know how to map up strategies for better BECE performance.
Enrol your ward for the July BECE Home Mock Now!!!!. Our August BECE Home Mock will be the fourth nationwide mock. Take a mock at home now on August 24-25 2022 (Saturday and Sunday).
Register your ward for the upcoming 2022 August Mock Now.
READ: Best Brain & GEN Booster Mock Questions and Answers for July-August (Download All Subjects)
Summary of Chief Examiners Report for Ghana Education News July 2022 BECE Home Mock (Weakness and errors)
Candidates are used to answering questions without writing the correct question numbers. In some instances, candidates write section names instead of question numbers.
Candidates are not able to explain with examples answers provided in Social Studies. Some provide one to three-worded answers for 8 to 10 marks score questions which is worrying.
Some candidates can not differentiate between a descriptive essay and a friendly letter. Candidates were tasked to write "Describe how your favourite game is played to a friend" Some students jumped into letter writing all because they saw "to a friend" in the question. Teachers need to work on their students to be able to tell the kind of essay to be written.
BECE candidates as they are unable to score good marks in the objective test paper.
Candidates demonstrated low or weak knowledge of topics assessed from forms 1 and 2. Teachers and students need to revise their JHS1 and JHS2 lessons in all subjects. This was more visible in Integrated Science and Mathematics. Candidates could not calculate area, perimeter not factorize and do simplification. No candidate answered the graph-related question. This may be a sign of weakness. Maths teachers should revise this topic well with their candidates.
Ghana Education News July 2022 BECE Home Mock Results Out:
How to check your ward's Ghana Education News July 2022 Home Mock Results Online.
To check your ward's Individual Home Mock Result, kindly follow the steps.
Go to https://ghanaeducation.org/bece-home-mock-result-portal/
#1. Select the Month and Year the BECE candidate took the mock examination. Eg June 2022
#2. Select the year. For Eg. 2022
#3 Enter the Candidate's GEN HOMEMOCK Index Number in the space (Roll No.) This is the parent/guardian's phone number. If a parent registered two candidates, the first candidate's index number which is the parent's phone number will start with "0" and the second candidate's index number starts with 1 instead of 0.
# Click on the button  (Search)
For those who want to access a default result on the site. Follow the procedure above for checking results and use the student ID (Roll No) 12345 then click on search for the result to load.
READ: Best Brain & GEN Booster Mock Questions and Answers for July-August (Download All Subjects)
[wp-rss-aggregator]
SOURCE: Ghana Education News