Disgusting as Ghanaian lady uses dirty feet to mash ice kenkey for sale [Video]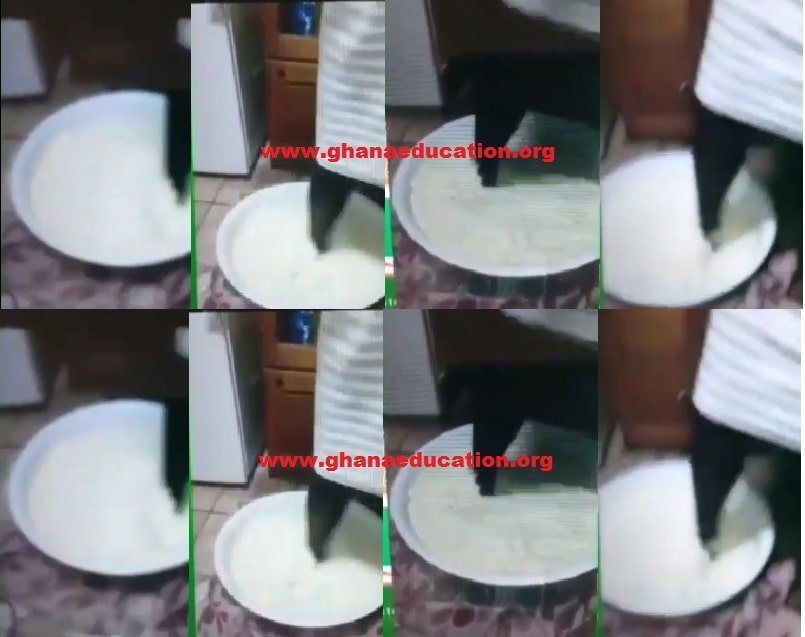 A Ghanaian lady has been caught on video using her feet to mash ice kenkey which is meant for sale.
The trending video has been captured in news items on Kingdom FM, Peace Fm, and other top radio and television stations already.
This means of mashing kenkey is unhygienic and wrong, no matter how many times she washes her legs and feet before using it to mash the kenkey.
Today there are machines that can mash the kenkey, including the blender.
In the video, she can be seen using her feet to mash the kenkey in a basin. This method of kneading though is used when kneading clay for building mud houses in villages.
The disgusting scenes from the video have received public uproar. The Food and Drugs Authority, the Ghana police service, and other security agencies must work to arrest this woman.
Buying snacks or simple meals like ice kenkey in town or while in a moving vehicle in traffic is not safe any longer.
Those who eat Ice Kenkey as a quick snack or lunch must be reconsidering who and where they buy this and other related local beverages.
This video in which the lady is using her feet to mash Ice Kenkey will surely affect the business of persons who sell the home-prepared meal which is currently bottled for sale on our streets.