Go and rest – Agya Koo tells Bawumia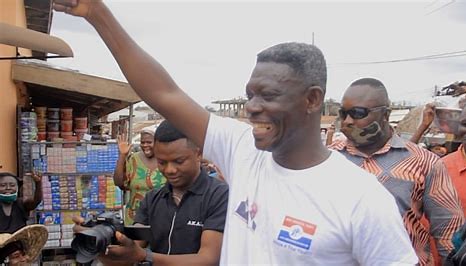 Go and rest – Agya Koo tells Bawumia: Veteran comedian and Kumawood actor, Kofi Adu, popularly known as Agya Koo, has recently made headlines for his interesting message directed at Vice President Dr. Mahamudu Bawumia, who is also a contender in the flagbearer race of the New Patriotic Party (NPP). In an interview on One Ghana TV, Agya Koo shared his thoughts on the various contributions of the five aspirants within the party and why he believes some may not be eligible to carry the party's flag.
ALSO READ: French Ambassador Hostage Crisis in Niger: Macron's Concerns
Agya Koo began by acknowledging the significant contributions of Vice President Bawumia, highlighting the hard work he has put into serving the NPP. However, he made it clear that in a race, some candidates excel beyond others. He firmly expressed his belief that the best person to lead the party as its flagbearer is Kennedy Agyapong.
The veteran actor, who had previously supported Nana Addo, shared his perspective on the transition of leadership within the party. He remarked, "I joined the party to support Nana Addo, and now that he is retiring, it's time for us to hand the baton over to Kennedy Agyapong." Agya Koo's endorsement of Kennedy Agyapong reflects his confidence in the latter's leadership abilities and contributions to the party.
ALSO READ: Tarkwa: Five dies after attempting to mine in restricted area
Regarding Dr. Bawumia's candidacy in the 2024 race, Agya Koo had some advice. He suggested that Bawumia should consider taking a step back, resting, and strategizing for a future opportunity, implying that the upcoming race may not be the right timing for him. This statement underscores Agya Koo's belief that Kennedy Agyapong is the most suitable candidate for the flagbearer role at this juncture.
Agya Koo's preference for Kennedy Agyapong is based on his perception of Agyapong's extensive contributions to the party. He admires Agyapong's dedication to visiting his constituents, listening to their concerns, and taking action to address them. Agya Koo believes that Agyapong's track record within the party makes him the ideal candidate to lead and represent the NPP effectively.
ALSO READ: Freemasons Ghana breaks silence on allegations of being occultic and drinking blood
This interview with Agya Koo reflects the diversity of opinions within political parties and the significance of endorsements from influential figures. As the NPP prepares for its flagbearer selection, the perspectives of individuals like Agya Koo can play a role in shaping the party's decisions and strategies.
Ultimately, the NPP will need to navigate the complexities of its internal leadership race and make a decision that resonates with its members and supporters. The endorsements and preferences of party stalwarts like Agya Koo contribute to the broader conversation surrounding the future leadership of the NPP.
FOLLOW US ON X @ (1) Ghana Education News (@GhanaEducation5) / X (twitter.com)