Govt provides Ghs1.50 pesewas per Free SHS student for feeding: Headteacher laments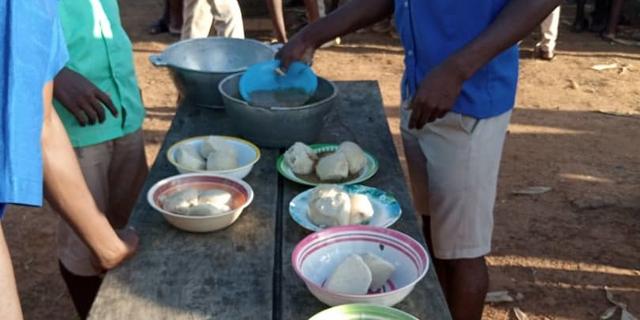 A headteacher of one of the public secondary schools has disclosed that the school receives Ghs1.50 pesewas per Free SHS student for feeding purposes. The Ghs1.50 pesewas is the daily funding made available to the school by the government under the government's Free SHS policy.
The head teacher furthered that, all schools under the programme are required to use the GH¢1.50 pesewas to purchase important things such as firewood, gas, ingredients, maintenance work, and to provide food for the students.
The sad disclosure was made public during an interview by Joy News's Umaru Sanda Amadu. To avoid victimization among others, the head teacher spoke on condition of anonymity.
The worried teacher said the money was just not enough to take care of all the expenses to be able to feed the students
"Every student is allocated GH¢1.50 pesewas for food per day and with this same money, you have to buy gas, do maintenance works in the kitchen". He stated.
"If you don't have fuel and a car to transport the ingredient from the market to your school, then that is another issue. The same money is used to feed the students breakfast, lunch and supper. Meaning, 50 pesewas per child for breakfast, lunch, and supper, inclusive of the gas and maintenance."
The head teacher added that to reduce the cost of fuel, the school is compelled to rely on broke school furniture and to set a fire outside the pantry. This is done often when the school does not have gas for cooking
"You have to go round to look for firewood if you don't have gas. You look for broken school chairs to set fire before cooking outside the pantry. It's so sad my brother, I'm in the belly of the fish, and I'm telling you the truth, it's not fiction, because I'm experiencing it, it's sad. Imagine the hazards our kitchen staff go through," he bemoaned.
The Free SHS policy apart from taking care of the cost of books, and uniforms. It also provides feeding for students. This new policy was started in September 2017.
This revelation goes to reiterate the call by stakeholders for the review of the Free SHS policy and to bring into being some cost-sharing system that will make parents contribute to financing the Free SHS. Many believe it will help the government to better finance the Free SHS, however, the government has remained unrepentant of its decision despite glaring challenges plaguing the programme.