How Can A Major TV Station Like You Call The Cedi By That Name? – Gabby Otchere Questions
Every day, the value of the Ghanaian cedi goes down. Already this month, the cedi has lost a lot of value against the dollar, which is making Ghanaians start to wonder what's going on.
When the dollar rises, traders have to spend more money to buy goods from other countries.
Even though the Ghana Union of Traders called off their strike, the cedi hasn't stopped losing value against the dollar. As a result, the prices of goods change every day.
In an interview on Asaase FM, Ken Ofori Atta told the people of Ghana to be patient while the government works to get the economy back on track.
Gabby Otchere Darko, a powerful member of the NPP, has criticized TV3 for calling the Cedi by a certain name.
Gabby thinks that it doesn't make sense for the media to say bad things about the cedi because the cedi itself is weak, so it doesn't make sense for the media to do the same.
READ ALSO: 2022 BECE Over, School Choice & Selection Next: Choose Wisely
He talked about a TV3 news headline that said, "Worthless cedi hits new low," and said that the word "worthless" should not be used in that way. Gabby said that even international economists wouldn't dare call the cedi by such a name. She was shocked that a media company like TV3 would use such a word.
"It's not the job of journalists and analysts to fix the cedi, but they won't help fix it if they make it their main job to stir up rumors. The cedi might be worth 60% less than it did last year when compared to the US dollar.
Gabby said, "But it's not worthless." Gabby told the people of Ghana to have hope and to know that things will change soon.
It's interesting that Gabby didn't remember that his uncle, President Akufo-Addo, used the Twi word "hatata" to talk about the cedi when he was running for office in 2016.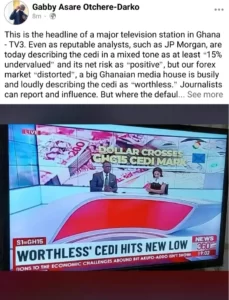 Bawumia also said that if the fundamentals are wrong, the exchange rate will always show it. Gabby thinks the media are being too harsh with their words these days. There will be some interesting times ahead.