John Ntim Fordjour: Mahama Poses Greatest Threat to Ghana's Progress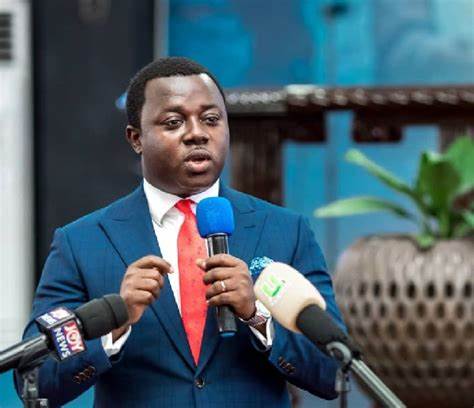 Deputy Minister for Education, John Ntim Fordjour, has strongly criticized former President John Dramani Mahama, the flagbearer of the National Democratic Congress (NDC), for his pledge to abolish the teacher licensure examination if he emerges victorious in the 2024 general elections.
John Ntim Fordjour, representing Assin South, asserts that Mahama's promise threatens to undermine the substantial progress achieved through the policy, which he deems a "game changer" in the education sector.
Taking to Twitter on Saturday, November 18, NJohn Ntim Fordjour called on Ghanaians to reject Mahama in the upcoming 2024 elections, declaring him the foremost impediment to the nation's advancement.
ALSO READ: Erastus Asare Donkor Unveils Perils of Investigative Reporting (ghanaeducation.org)
The Deputy Education Minister John Ntim Fordjour expressed his belief that Mahama lacks the visionary leadership required for the country's progress, emphasizing the former president's tendency to dismiss and threaten to annul beneficial policies.
ALSO READ: How Asenso-Boakye nearly cost Bawumia 's win at Bantama (ghanaeducation.org)
In a tweet, John Ntim Fordjour stated, "There are leaders who establish policies and introduce new systems for the good of our people and for the development of our nation.
This one lack vision. He only cancels and threatens to cancel good policies at every opportunity. Mahama is, by far, the biggest threat to Ghana's progress."
ALSO READ: Sunyani Teaching Hospital sod cutting ceremony a hoax – Mintah Akandoh (ghanaeducation.org)
Ntim Fordjour concluded his Twitter post by asserting that the alternative to Mahama is "empty," criticizing the lack of vision and portraying the former president as merely desperate for power, highlighting past instances of what he perceives as incompetence in handling responsibilities.
ALSO READ: Government has pumped GH¢16 billion into expanding, fixing roads – Ofori-Atta (ghanaeducation.org)
Ntim Fordjour's remarks underscore a deep-seated concern about the potential impact of Mahama's policy proposals on the nation's trajectory and development.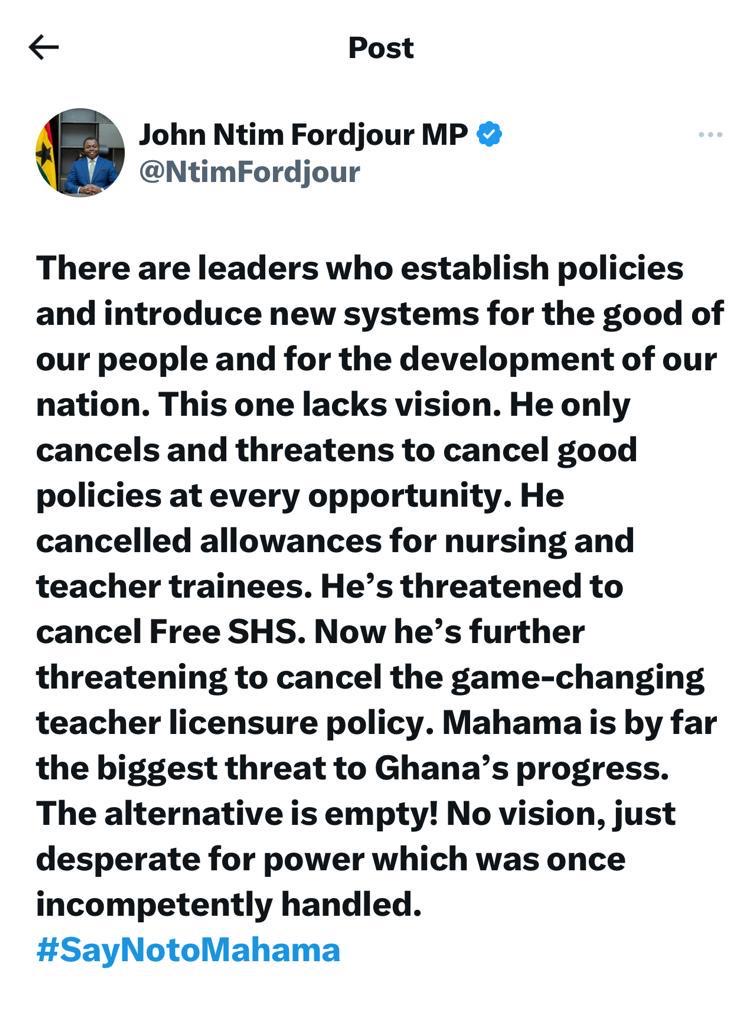 Teachers Updates and Credible teacher-focused news – Ghana … (bing.com)