Nyinahin Bauxite deposits are twice more than we estimated – GIADEC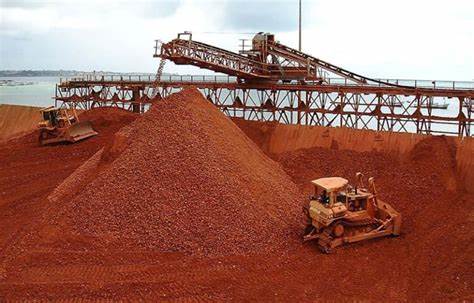 The Ghana Integrated Aluminium Development Corporation (GIADEC) has made a groundbreaking revelation regarding the Nyinahin bauxite deposits in the Block-B Hills, indicating that they are twice as extensive as initially estimated. Previous studies had suggested approximately 250 million tonnes, but the first-ever scientific assessment, employing modern technology, now reveals a minimum of 375 million tonnes in hills four, five, and six.
GIADEC's CEO, Michael Ansah, along with Kwasi Osei Ofori, CEO of Rocksure International, shared this remarkable finding with President Nana Addo Dankwa Akufo-Addo. The Nyinahin Bauxite deposits project's overarching goal is to validate and define bauxite resources, with the total estimated for Ghana standing at 900 million tonnes. Notably, the Nyinahin area alone boasts the highest concentration, totaling 700 million tonnes.
ALSO READ: Nigeria withdraws lawsuit against Shell (ghanaeducation.org)
During the meeting on talks about the Nyinahin Bauxite deposits, President Akufo-Addo commended the efforts of GIADEC, emphasizing the government's unwavering support for initiatives that enhance the nation's mineral wealth.
SHARE YOUR OPINION ON THE TOPIC Nyinahin Bauxite deposits are twice more than we estimated – GIADEC.
The background of Nyinahin Bauxite deposits discovery traces back to the launch of GIADEC by President Akufo-Addo on September 14, 2021. The corporation's four-project agenda is geared towards boosting bauxite production and maximizing value through refining and smelting.
ALSO READ: visited Bawumia? you're hypocrites – Joseph Yammin Criticizes pastors (ghanaeducation.org)
The first project involves the expansion of the Awaso mine, coupled with the implementation of a refinery solution. Deputy Minister George Mireku Duker expressed satisfaction with GIADEC's collaboration with Rocksure, highlighting the exceptional quality and quantity of the bauxite reserves.
With the completion of the Mineral Resource Estimate (MRE), the project is poised to advance to the mining stage, presenting a promising opportunity for the establishment of an integrated aluminum industry. Simultaneously, progress on projects three and four, which include mine development in Kyebi and Nyinahin, as well as the modernization of VALCO, is underway.
GIADEC's CEO, Mr. Ansah, underscored the corporation's commitment to collaboration with Ghanaian companies in the initial two projects, ensuring substantial Ghanaian participation in these transformative ventures. The revelation of the increased Nyinahin Bauxite deposits adds a significant dimension to Ghana's strategic positioning in the global aluminum industry.
SHARE OUR POST ON THE TOPIC Nyinahin Bauxite deposit are twice more than we estimated – GIADEC.
Teachers Updates and Credible teacher-focused news – Ghana … (bing.com)