SEPTEMBER 2021 BECE Mock Examination Questions with Marking Schemes – Best Brain Examiners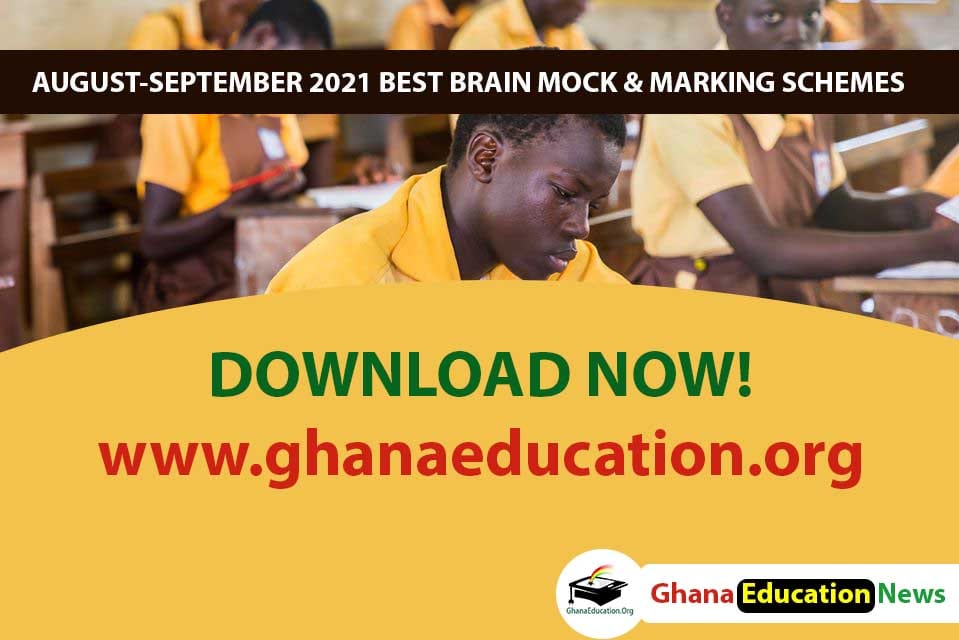 Ghana Education News| Best Brain Mocks & Marking Schemes – BECE 2021 Tough August-September Mock
Best Brain Examination Konsortium has set the pace again with a new tough Mock Examination for BECE 2021 candidates. The private special examining body is an expert in BECE mock examinations.
SEPTEMBER 2021 

BECE

 Mock Examination Questions with Marking Schemes
On this page, you will find all the available Best Brain mock questions for September 2021. If you are looking for 2021 Mock Examination Papers 2021 Ghana, then these are the questions worth downloading and solving as they come with the solutions.
The questions uploaded here are the latest mock questions from Best Brain. The mock started on 30th August and ends on 3rd September 2021.
To assists BECE 2021 candidates with JHS Mock Examination Questions we have uploaded the available mock questions and the respective marking schemes. 
JOIN US ON WHATSAPP AND TELEGRAM BY CLICKING THE ICON BELOW


These same mock questions serve as district mock 2021 in some schools. Often what students and teachers call 2021 district mock questions are BECE mock examinations set and administered by various districts. 
However, none of these can compete with Best Brain Examination Konsortium's mock examination papers for 2021 candidates since these papers are well structured and tougher. The best brain examiners have vast experience in each subject area making them the best mock to consider for Junior High School trial tests.
Download SEPTEMBER 2021 BECE Mock Examination Questions with Marking Schemes
These are the BEST BRAIN Mock Questions
BECE 2021 social studies questions and answers – DOWNLOAD
Integrated Science 2021 mock questions and answers for BECE candidates – DOWNLOAD