Shatta Wale Campaigning For Kennedy Agyapong? Check What He Said.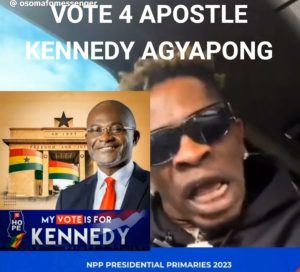 The time for Ghanaians to elect their president after every court year based on the 1992 Constitution is approaching fast. Honorable Kennedy Agyapong has joined the presidential race of the New Patriotic Party NPP. Shatta Wale campaigning for Kennedy Agyapong to become the next president of the Republic of Ghana.
A video circulating on social media showcases how Shatta Wale needs a person like Honorable Kennedy Agyapomg to become the president of Ghana in the 2024 elections. The words of Shatta Wale are clear and everyone can understand his choice as far as the 2024 General elections are concerned.
" Now we lead a leader who is strict, tough, and brave. We don't need calm leaders again in this country. We need leaders who can talk when the bad thing is happening and not leaders who will watch bad things happen in the Country. We are tired of bad leadership in Ghana and this is the time we give the chance to someone who can send people to jail straightforwardly when they do bad things". – Shatta Wale Campaigning for Kennedy Agyapong.
From the words of Shatta Wake, did not mention the name of Kennedy Agyapong, but all indications show that he has Kennedy Agyapong at heart and he will be glad when Honorable Kennedy Agyapong comes to power as the president of the Republic of Ghana.
One interesting part of Shatta Wale's video was when he quoted the  Showdown" insinuated by Honorable Kennedy Agyapong during the Super delegate elections conducted by the New Patriotic Party NPP to reduce the number of their presidential candidates.
Most people believe that Kennedy Agyapong is loved by the grassroots of the party and it is evidence that he will emerge as the winner of the upcoming presidential and parliamentary elections by the New Patriotic Party NPP in the first week of November 2023.
Ghanaians should be ready to elect a capable leader who can transform the country to our very best expectations. The development of the country is not about party affiliations and that of party colors.  It is the responsibility of all Ghanaians to choose the right leader and president in the 2024 General elections.