GNAT warns govt will not hire teachers if 4% base pay is rejected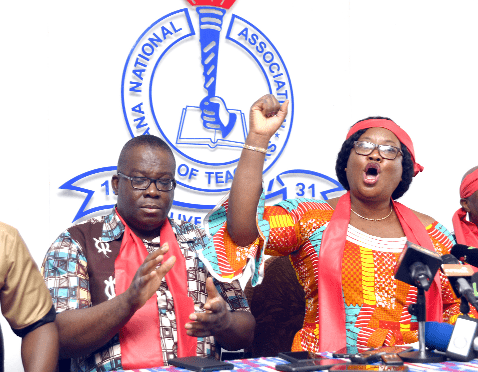 The Ghana National Association of Teachers (GNAT) says the government proposed 4% base pay for the year 2021 and 7% for 2022 was accepted to enable more Colleges of Education graduates to be recruited in 2021/2022.
While granting an interview on the matter, Mr Isaac Nii baah , the Accountant of the GNAT, indicated that the Association proposed a 15% increment for 2021 and 2021 but its proposals were rejected at the meeting with the Organised Labour.
"We the Association of Teachers proposed 15% increment for 2021 and 2022 but the government made it clear to us that if we go beyond the 4%, Colleges of Education graduates will not be employed for 2 years," he stated.
ALSO READ: Challenges of Free SHS won't Be Solved By 'Pasco' For Candidates – Mr Mathias Tulasi
Issued they tabled to push for the 15% increase were the high cost of living amid the and the global coronavirus pandemic but the Organised Labour turn down their request.
"Government of Ghana (GoG) after the 4% and 7% agreement also accepted to comply with the other conditions that will ensure more teachers are recruited in the subsequent years," the GNAT Accountant stated.
READ ALSO: NTC to Release 2021 GTLE Results on Thursday 
Mr Isaac Nii Baah stated that an approved 15% increment would mean graduates from the College of Education (CoE) from 2021, 2022 will not be recruited by the Ghana Education Service.
Post Publications || Join us on Whatsapp || Post Disclaimer
---
SEND A STORY: Do you have a story for us or need a promotion/advertisement? Submit them via our email admin@ghanaeducation.org
DOWNLOAD OUR>>> MOBILE APP
JOIN OUR EDUCATION NEWS GROUPS (WHATSAPP)
Join one of our Whatsapp/Telegram Groups for current Ghana Education Service News Updates:
JOIN ONLY ONE... THANKS
TELEGRAM PAGE >>> [JOIN]
Group 1 >>New Group> [JOIN]
Group 1 >>New Group> [JOIN]
Group 1 >>New Group> [JOIN]
TELEGRAM PAGE >>> [JOIN]
Only websites that give us a URL backlink can repost our content on their sites.
---
The information contained in this post is for general information purposes only. The information is provided by GhanaEducation.Org and while we endeavour to keep the information up to date and correct, we make no representations or warranties of any kind, express or implied, about the completeness, accuracy, reliability, suitability or availability with respect to the website or the information, products, services, or related graphics contained on the post for any purpose.
||About Us|| Contact Us
---