Third Wife of Ras Mubarak Sparks social media Storm with Provocative Post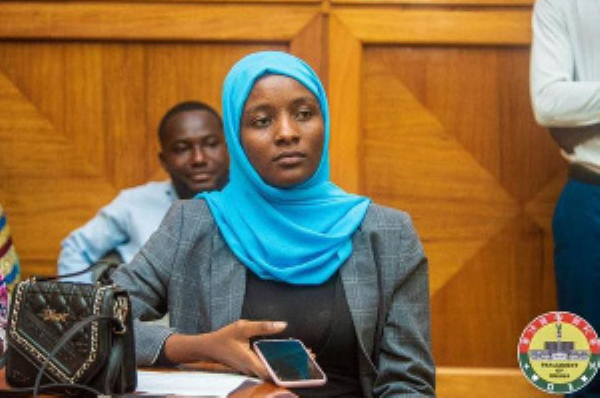 In a thought-provoking Facebook post, Samaha Muhammad, the third wife of Ras Mubarak, has ignited a firestorm of discussion on social media with her views on what constitutes an ideal woman. Her candid remarks have drawn both support and criticism, making her post a topic of intense debate.
Samaha begins her post with a hint of playfulness, acknowledging that her opinions may not resonate with everyone and that she may face backlash from her own sisters for expressing her thoughts. She opens with the assertion that, in her perspective, women often squander their time by default.
Her central argument revolves around the idea that women are naturally inclined to seek leadership and protection from men, suggesting that they are inherently designed to be led and cared for by the opposite gender. She emphasizes that this inclination doesn't necessarily make women the default leaders of society but rather, their strengths lie in their ability to forge and maintain relationships within the family, owing to their deep understanding of people and emotions.
ALSO READ: See Ship Dealer`s Reaction after Shatta Wale gifted him Dollars
One of the key points Samaha makes is her belief that some women, in their pursuit of financial success, career advancements, and secular education, tend to misallocate their time and energy. She implies that prioritizing these aspects of life over others often leaves them feeling unsatisfied and unfulfilled.
Samaha's thought-provoking commentary has stirred a passionate discussion on social media platforms. On one side, some commend her for shedding light on the significance of traditional family roles and the values associated with them. These supporters argue that her perspective is a reminder of the importance of nurturing strong family bonds and the traditional dynamics that have held societies together for generations.
On the other side, there are those who criticize Samaha's views, asserting that they perpetuate traditional gender stereotypes and restrict women to predefined roles. They argue that such beliefs can be limiting and do not account for the diverse aspirations and capabilities of women in today's society, where empowerment and equality are important principles.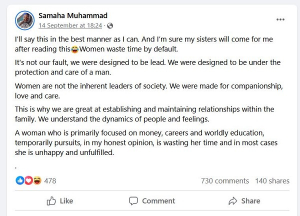 In conclusion, Samaha Muhammad's Facebook post has undeniably sparked a lively and polarizing conversation about gender roles, expectations, and the pursuit of happiness. It serves as a reminder of the diversity of opinions and perspectives that exist in our society, highlighting the ongoing dialogue surrounding gender dynamics and the evolving roles of men and women in the modern world.
ALSO READ: Drama Unfolds as Housemaid Requests New Car for Her Boyfriend
FOLLOW US ON X @(1) Ghana Education News (@GhanaEducation5) / X (twitter.com)