Drama Unfolds as Housemaid Requests New Car for Her Boyfriend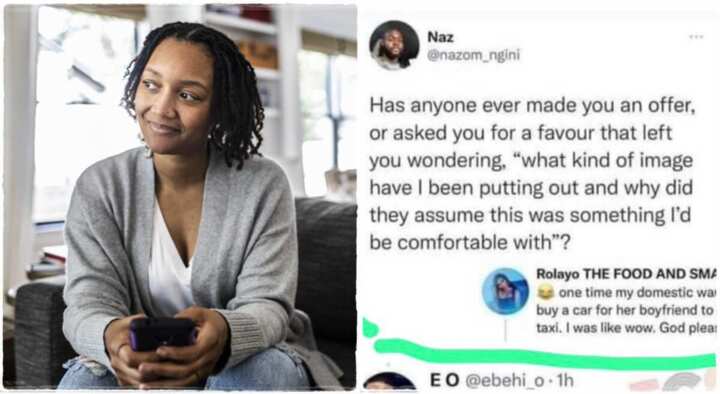 'Drama Unfolds as Housemaid Requests New Car for Her Boyfriend'… A social media user recently initiated a discussion about unusual requests for assistance people have encountered in their lives. Among the stories shared, one woman disclosed a rather unexpected appeal from her domestic help. According to her, the housemaid approached her with a request to purchase a car for her boyfriend, who intended to use it for a taxi business.
ALSO READ: See Ship Dealer`s Reaction after Shatta Wale gifted him Dollars
The surprising revelation came as a response to a tweet by @nazom_ngini, who prompted netizens to share instances where they had been approached with requests that left them questioning the image they projected or why others assumed they would be comfortable with such appeals.
In her response, the woman recounted the peculiar incident: "One time, my domestic wanted me to buy a car for her boyfriend to use as a taxi. I was like wow, God please."
ALSO READ: Ibrahim Mahama Supports Viral Village Boy's Dream to Follow in His Footsteps
This reply was later captured and reshared by @tosinolaseinde, generating further discussion and reactions from other Twitter users.
As the conversation continued, more individuals chimed in with their own memorable encounters involving friends and relatives seeking unusual favors. These stories ranged from inquiries about purchasing firearms to substantial loans for business ventures and even requests for financial support to fund higher education.
ALSO READ: Urgent Update: Anticipated Fuel Price Surge on September 16, Predicted by IES and Affecting Diesel and LPG Costs
These anecdotes serve as a reminder of the unexpected and sometimes perplexing requests that can arise in our interactions with others, prompting us to reflect on the diverse and unpredictable nature of human connections.
FOLLOW US ON X @ (1) Ghana Education News (@GhanaEducation5) / X (twitter.com)