Thomas Muller Stats, Goals, Assists, Records, Trophies and More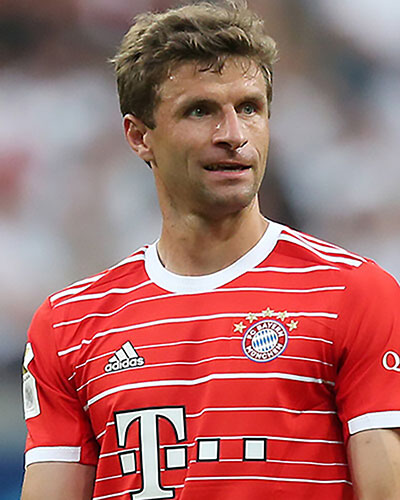 Thomas Muller is a professional footballer who plays for Bundesliga club Bayern Munich and the Germany national team. His favorite position in the football is to be an attacking midfielder, winger or play forward. Let's take a look at his full career stats.
 Stats for Bayern Munich
Games –  669
Goals – 235
Assists – 257
Goals and Assists Combined – 492
Stats for Germany:
Games- 123
Goals – 45
Assists-  40
Goals and Assists Combined – 85
Combined stats for Bayern And Germany
Games – 792
Goals –  280
Assists – 297
Goals and Assists Combined – 577
Trophies
Thomas Muller has 33 trophies. Below is the breakdown.
12x Bundesliga
8x German Supercup
6x German Cup
2x Champions League
2x FIFA Club World Cup
2x UEFA Super Cup
1x World Cup
Do's And Don'ts Of The 2023 School Selection Process
Best personal season at Bayern
His personal best season at Bayern Munich was in 2015/16 season. Below was his stats
49 – games
32 – goals
13 -assists
45 – G/A
Most goals in one season: 32 (2015/16)
Most assists in one season: 26 (2019/20)
Records & personal achievements:
Most trophies (33) won by a German player in history
Most trophies (32) won by a Bayern player in history
Most Bundesliga titles (12) won in history, more than any other player and coach
2nd most league titles (12) won in history
Highest number of consecutive Bundesliga titles (11) of any player and coach
Most Bundesliga seasons played (16) by a Bayern player
Most games played (667) by an outfield player in Bayern history
Most German Supercup trophies (8)
Most German Cup games played (64) by a Bayern player
Most matches won (53) in the German Cup by any player in history
4x Bundesliga Team of the Season (2009/10, 2015/16, 2017/18, 2020/21)
Bundesliga Newcomer of the Season (2009/10)
13th most assists (237) in football history (opta assists)
Most assists (197) in Bundesliga history
Most assists (22) in one Bundesliga season (2019/20, 2020/21)
Most assists (13) in the first half of a Bundesliga season (2021/22)
Most assists (17) against one Bundesliga opponent (Bremen)
53 Champions League goals (7th most of all time)
Most Champions League games played (142) by a German player
Most Champions League wins (99) by a German player
 3rd most Champions League wins
Golden Boot (World Cup 2010)
Best Young Player (World Cup 2010)
2nd best player of the tournament (World Cup 2014)
Silver Golden Boot (World Cup 2014)
10 World Cup goals (in 19 games)
Midfielder of the Year (2016) by German newspaper.
Highest number of consecutive Bundesliga games won (87) as a player when scoring in the goals
320 wins after only 445 Bundesliga games is a record
Highest number of Bundesliga wins (320) for a player for one club
 2nd highest number of Bundesliga wins (320) for a player
Highest number of substitutions (167) in the Bundesliga from the field
Check Out The Reopening Date For Next Term For Basic Schools
Ballon d'Or Records:
 5th place (2014)
13th place (2011)
15th place (2010)
17th place (2013)