Top 10 Most Popular Dishes In Ghana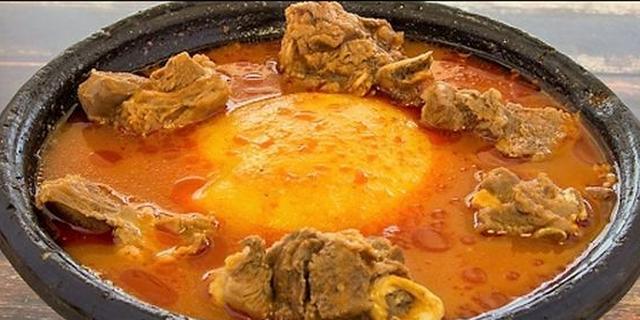 Let's take a look at the ten most popular dishes in Ghana. As you already know, Ghanaian dishes often consist of soups and stews to feed a crowd. They also include ingredients like root vegetables, peppers, and leafy greens.
Whether you're planning a trip to Ghana and want to learn about Ghanaian cuisine before your visit, or you're an expat who wants a taste of home, try one of these traditional dishes from Ghana for dinner tonight. You'll find links to recipes in the descriptions of each food.
1. Rice and Stew
Rice is stew is undoubtedly the most popular meal in Ghana. It also happens to be part of the top three most popular dishes in the entire world.
2. Fufu with any kind of soup
This meal is made from pounded casava and plantain. The cassava is sometimes replaced with pounded yam or pounded cocoyam. It is paired with a zesty soup typically prepared with fish or meat and infused with aromatic herbs.
Check Out The Reopening Date For Next Term For Basic Schools
3. Waakye
A hearty blend of rice and beans cooked with millet leaves, giving it a distinctive reddish-brown hue. It's often garnished with fried plantains and accompanied by a spicy sauce
4. Jollof Rice
Jollof rice is a flavorful dish crafted from rice, tomatoes, onions, and an array of spices. It's commonly served with chicken or fish. The colour of this meal when it's ready is yellowish brown.
5. Ampesi
This dish is made when one cooks either yam, plantain, cassava, cocoyam. Ampesi is prepared with any tuber or popularly plantain. This stew can be made vegan, but is traditionally seasoned with a variety of dried, canned, fresh, and even cured/fermented fish. Kontomire is the best stew for this meal.
6. Kenkey
Versatile fermented corn dough, wrapped in corn husks and steamed, is a Ghanaian staple, enjoyed with soups, stews, or fish.
Sarkodie Narrates Near-Death Experience With Delta Airlines On Sept. 9th
7. Banku and Tilapia
A coastal favorite, this dish combines fermented corn and cassava dough (banku) with grilled tilapia fish.
8. Gari and Beans "Gob3"
A flavorful bean stew crafted from black-eyed peas, palm oil, and spices, often served with fried plantains or rice
9. Kokonte
A dish made from fermented cassava, kokonte is akin to fufu but boasts a distinct taste and texture. It's commonly served with various soups and sauces.
10. Kelewele
A popular Ghanaian street food consisting of spiced fried plantains, seasoned with ginger, garlic, and hot peppers for a sweet and spicy kick.