Travel Abroad: Visa Free Countries For Ghanaian Passport Holders in 2023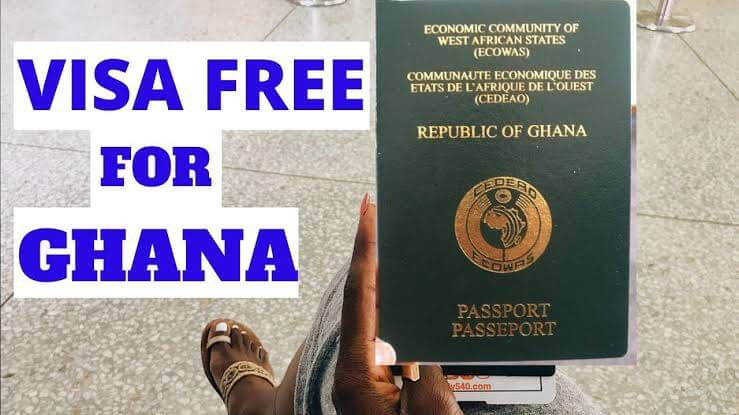 Here are 65 countries Ghanaians can travel to without visa provided they have their passport. These are visa free countries for all Ghanaian passport holders.
Many people's desire to visit these developed nations has been put on hold because they lack the necessary qualifications.
This article will examine some of the nations that Ghanaian passport holders can visit without a visa.
Based on the number of nations passport holders can visit without a prior VISA, the Ghanaian Passport is ranked 75th in the world by the 2020 Henley Passport Index.
Do you have a valid Ghanaian passport? Here is a list of the 65 regions in which you can travel without needing a VISA in advance.
AFRICA:
Benin
Comoros Island (VISA on arrival)
Ethiopia (VISA on arrival but you are allowed to stay up to 90 days)
Guinea Bissau
Madagascar (VISA on arrival but you are allowed to stay up to 90 days)
Mauritius
Nigeria
Seychelles (VISA on arrival but you are allowed to stay for 90 days)
South Africa
Uganda
Burkina Faso
Cote d'Ivoire
The Gambia
Kenya
Mali
Mozambique (VISA on arrival but you are allowed to stay for 30 days)
Rwanda
Sierra Leone
Tanzania
Zambia (VISA on arrival but you are allowed to stay for 90 days)
Cape Verde
Swaziland
Guinea
Liberia
Mauritania (VISA on arrival)
Niger
Senegal
Somalia (VISA on arrival but you are allowed to stay for 30 days)
Togo
Zimbabwe
Oceania
Cook Islands
Niue
Tuvalu (VISA on arrival but you are allowed to stay for 30 days)
Fiji
Palau Islands (VISA on arrival but you are allowed to stay for 30 days)
Vanuatu
Micronesia
Samoa (VISA on arrival but you are allowed to stay for 60 days)
Caribbean
Barbados
Grenada
Montserrat
St. Vincent and the Grenadines
British Virgin Islands
Haiti
St. Kitts and Nevis
Trinidad and Tobago
Dominica
Jamaica
St. Lucia (VISA on arrival but you are allowed to stay for 6 weeks)
Middle East
50. Iran (VISA on arrival but you are allowed to stay for 15 days)
51. Lebanon (VISA on arrival)
52. Jordan (VISA on arrival)
Asia
Bangladesh
Macao (VISA on arrival)
Philippines
Cambodia (VISA on arrival but you are allowed to stay for 30 days)
Maldives (VISA on arrival but you are allowed to stay for 30 days)
Singapore
Indonesia
Pakistan (Electronic Travel Authorization is obtain on arrival)
Timor-Leste (VISA on arrival but you are allowed to stay for 30 days)
Americas
Belize
Nicaragua (VISA on arrival but you are allowed to stay for 90 days)
Bolivia (VISA on arrival but you are allowed to stay for 90 days)
Guyana
READ ALSO: University of Cape Coast (UCC) Cut Off Points 2023/2024 Academic Year