US Ambassador Warns of Consequences for Ghanaian Products If Anti-LGBTQ+ Bill Is Passed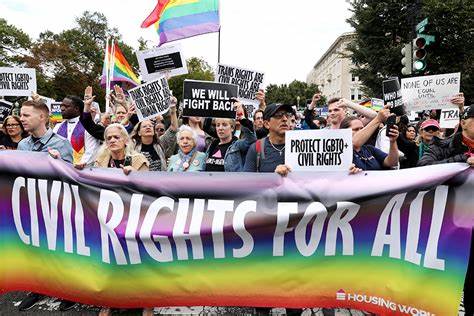 In a recent address at the American Chamber of Commerce Ghana Thanksgiving Dinner and Awards Night, US Ambassador to Ghana, Virginia Palmer, issued a stark warning regarding the potential repercussions for Ghanaian products in the US market if the current form of the anti-LGBTQ+ bill is passed by the Ghanaian parliament.
Ambassador Palmer expressed strong concerns about the Anti-LGBTQ+ Bill, characterizing it as hostile, discriminatory, and undermining the rights of those associated with the LGBTQI community. She emphasized that passing the bill in its current state could lead to a blacklist and a ban on Ghanaian products in the United States.
The ambassador highlighted the Anti-LGBTQ+ Bill 's potential impact on free speech rights, stating that it aims to create hostility not only towards LGBTQ individuals but also towards anyone sympathetic to their cause. She warned that journalists, landlords, and even parents could face arrest under the proposed legislation.
ALSO READ: NPP Sylvester Tetteh 's Strategic Move: How He Escaped NPP Membership Revocation (ghanaeducation.org)
Furthermore, Ambassador Palmer suggested that the Anti-LGBTQ+ Bill 's passage could negatively affect Ghana's image as an investment destination. She pointed out that such legislation might make it challenging to attract top talent from overseas and could marginalize educated and hardworking Ghanaians, signaling that they are unwelcome.
The anti-LGBTQI bill, officially named the Proper Human Sexual Rights and Ghanaian Family Values Bill (2021), is currently under consideration in parliament. Sponsored by MP Sam Nartey George and seven others, the bill aims to criminalize various activities related to LGBTQ individuals, including advocacy, funding, and surgical procedures for gender reassignment, except for medical purposes.
ALSO READ: Bagbin Urges Caution in 2024 Budget Approval (ghanaeducation.org)
In addition, the Anti-LGBTQ+ Bill imposes a duty on citizens and constitutional bodies to promote and protect "proper human sexual rights and Ghanaian family values." It also renders unions or marriages between individuals of the same sex or those who have undergone gender reassignment void.
As discussions around the Anti-LGBTQ+ Bill continue, the warning from the US Ambassador adds a new dimension to the potential consequences Ghana may face on the international stage.
Teachers Updates and Credible teacher-focused news – Ghana … (bing.com)