WASSCE 2023 Clothing And Textiles Questions (Samples with Answers)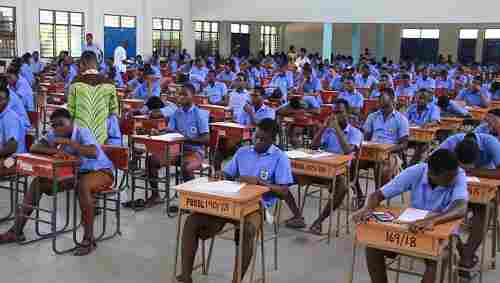 WASSCE 2023 Clothing and Textiles Questions (Samples) which come along with suggested answers have been shared in this post as part of efforts to help candidates revise with extra materials for the pending examination.
Clothing and Textiles Sample questions and answers for the 2023 WASSCE have been set to rest your readiness as a candidate for the exam.
The Wood Work paper will be written on Wednesday, 20th Sept, 2023.
Make yourselves abreast with these sample questions and answers
1. Clothing items that complement a person's outfit are referred to as
A. accessories
B. clothes
C. cosmetics
D. jewellery
2. What is the name given to rules and regulations that are expected from workers in clothing and textiles enterprise?
A. Ethics
B. Ethos
C. Morals
D. Principles
3. What do broken lines represent in pattern making?
A. Adjustment line
B. Cutting line
C. Grainline
D. Stitching line
4. Which one of the following items could be used to prevent strong body odour?
A. Deodorant
B. Lime
C. Orange
D. Perfume
Structure Of 2023 Subject Based Ghana Teacher Licensure Examination
5. To fix a shirt sleeve which is slightly bigger than the armhole, the excess fullness can be conveniently arranged by
A. easing
B. gathering
C. pleating
D. smocking
6. Cotton fabrics have been recommended for making undergarments in tropical countries like Ghana. What characteristic of cotton makes this ideal?
A. Absorbency
B. Resiliency
C. Ease of care
D. Elasticity
7. Which of these ways of arranging fullness creates a decorative look on a garment?
A. Darts
B. Easing
C. Gathering
D. Smocking
8. You have the opportunity to choose any of these pattern-making methods to demonstrate your knowledge and skills in an upcoming fashion show. Which one of these methods would be the most appropriate for you to use conveniently and faster?
A. Drafting
B. Draping
C. Flat pattern making
D. Free hand cutting
Dollar, Pound and Euros to Cedi Exchange Rates from Forex Bureaus For September 2023
9. The difference between blends and mixtures is
A. blends are done at the fibre stage but mixtures are done at the yarn stage
B. mixtures are done at the fibre stage but blends are done at the yarn stage
C. mixtures are done at the hackling stage but blends are done at the finishing stage
D. blends are done at the spinning stage but mixtures are done at the fibre stage
10. Rose did a combination of her dress with plain white and printed fabric. After washing with the aid of a washing machine, she realized there were traces of dyes in her dresses. What processes did she fail to observe?
A. Colour fastness
B. Fabric content
C. Fabric quality
D. Machine settings
ANSWERS
1. A
2. A
3. D
4. B
5. A
6. A
7. D
8. B
9. A
10. A