Bank of Ghana Suspends Zeepay over Violation
The Bank of Ghana (BoG) has fined and suspended the operation licence of Zeepay Ghana Limited.
According to the regular report, this has become necessary due to the firms valuations of key regulations in the forex market.
Zeepay is a fastest growing fintech focusing on digital avenue to connect digital assets such as mobile money and Digital Tokens to International Money Transfer Operators, Payments, Subscriptions, International Airtime and Refugee payments.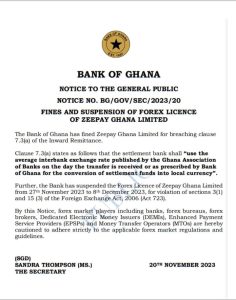 The Bank of Ghana has suspended the Zeepay Ghana limited licence from November 27th 2023 to December 8 2023 for bleaching section 3(1) of Foreign exchange acts 2006 (723)
Bank of Ghana has issued a notice caution  Forex market players including banks, forex bureau and payment service providers and money transfer operators to strictly adhere to applicable forex market guidelines by the bank of Ghana.
" By this Notice, forex market players including banks, forex bureaus, forex brokers, Dedicated Electronic Money Issuers (DEMIs), Enhanced Payment Service Providers (EPSPs) and Money Transfer Operators (MTOs) are hereby cautioned to adhere strictly to the applicable forex market regulations and guidelines," statement released by Bank of Ghana.
Bank of Ghana is sending  a strong reminder to forex market participant of importance of complying to the established regulations and guidelines, failure to do so could result in significant penalty including fines and licence suspension.
Forex market participants must ensure that they are fully concerned with all applicable regulations and guidelines and that their operations are conducted under strict compliance and this requirement this will help promote the integrity and stability of Ghana forex market and protect the interest of all stakeholders.