Controversial Penalty Defines Asante Kotoko Win against Medeama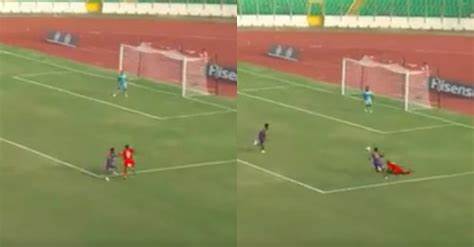 In a tightly contested match at the Baba Yara Sports Stadium on Sunday, November 19, 2023, Asante Kotoko secured a narrow victory over Medeama, with Sherif Mohammed's penalty goal in the second half proving to be the decisive moment of the game.
The controversy surrounding the penalty call has sparked discussions among fans and pundits alike, with opinions divided on whether the referee's decision was justified. The incident occurred when Kotoko's George Mfegue and Medeama's Kamaldeen engaged in a physical tussle for possession of a long ball. Mfegue managed to outmaneuver Kamaldeen, who, in an attempt to thwart Mfegue's control of the ball, extended his hand. Mfegue went down, winning the penalty.
ALSO READ: Ampem Darkoa Ladies Shine in Debut CAF Women's Champions League, Earn Praise from GFA Executive (ghanaeducation.org)
While some argue that the contact was too soft to warrant a penalty, others believe the referee made the correct call given the nature of the challenge. Sherif Mohammed capitalized on the penalty opportunity, finding the back of the net. However, controversy arose as it appeared Mohammed may have touched the ball twice during the penalty kick, which, if true, would have warranted an indirect free-kick for Medeama.
Despite the potential controversy, the referee, who had a close view of the action, stood by the decision and awarded the goal, dismissing claims of a double touch. The outcome of the match marked the end of Asante Kotoko's six-game winless streak, propelling them out of the relegation zone to 12th place on the table.
ALSO READ: Enyonam Manye Clinches Agri Journalist of The Year Award (ghanaeducation.org)
The contentious penalty incident not only stirred debate in the football community but also highlighted the subjective nature of officiating in the sport. As fans dissect the events leading to the crucial penalty, it remains a talking point in the aftermath of a match that had significant implications for both Asante Kotoko and Medeama in the league standings.
Watch the penalty incident below
Honest opinions !
Penalty or No penalty ?

Kotoko ???? Medeama pic.twitter.com/G9zMMJ5dTw

— Mr Jeffery Asare (APOSTLE) (@MrJefferyAsare) November 20, 2023
Penalty and the only goal for Asante Kotoko against Medeama SC pic.twitter.com/vT7mCfkcEq

— Isaac Amponsah (Dr Ike) (@IsaacAm02935720) November 19, 2023
Teachers Updates and Credible teacher-focused news – Ghana … (bing.com)