Dollar to Cedi Exchange Rates released by Top Banks and Forex Bureaus Out For Today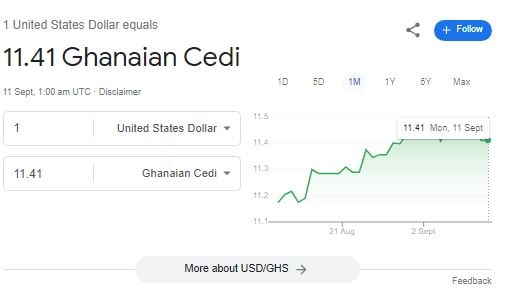 September 11, 2023, US Dollar to Ghanaian Cedi Exchange Rates released by Top Banks, Fintecs, and Forex Bureaus Out. The reliable rate from AfriSwap Forex Bureau shows that the dollar is selling at GHS11.65 while it is buying at 11.40. However, dollar-to-cedi rates quoted by WeWire Africa a Fintech company are higher for both selling and buying rates compared to that quoted by AfriSwap Forex Bureau.
United States Dollar To Ghanaian Cedi as per Forbes is 1 USD = 11.410997 GHS as of
WeWire Africa's selling and buying rates for the dollar are GHS11.70 and GHS11.48 respectively. 
Rsted quoted by Commercial Banks: Ecobank, GTBank, GCB Bank, Zenith Bank, Absa Bank, and others are lower than rates quoted for the dollar by Fintecs, and Forex Bureaus. 
READ: Dollar to Cedi Exchange rates for 1st September 2023: Implications for businesses, citizens and the economy
Dollar to Cedi selling rates quoted by Visa a Payment Processor is very high. The Visa buying and selling rates for the US dollar are  GHS10.65 and GHS12.26 respectively.
Check out the full Dollar to Cedi Exchange Rates released by Top Banks and Forex Bureaus Out For Today
Name
Buying
Selling
MidRate
Binance P2P
Crypto Exchange
11.59
11.59
11.59
WeWire Africa
Fintech
11.48
11.70
11.59
AfriSwap
Forex Bureau
11.40
11.65
11.52
GAFORB
Forex Bureau
11.30
11.60
11.45
Ecobank
Commercial Bank
11.10
11.60
11.35
Bank Of Ghana
Central Bank
11.04
11.05
11.05
GCB Bank
Commercial Bank
11.00
11.50
11.25
GTBank
Commercial Bank
11.00
11.59
11.29
Zenith Bank
Commercial Bank
10.95
11.55
11.25
CBG Bank
Commercial Bank
10.92
11.52
11.22
Stanbic Bank
Commercial Bank
10.90
11.55
11.22
Fidelity Bank
Commercial Bank
10.90
11.55
11.22
CalBank
Commercial Bank
10.90
11.56
11.23
Access Bank
Commercial Bank
10.90
11.45
11.17
Absa Bank
Commercial Bank
10.83
11.55
11.19
Standard Chartered
Commercial Bank
10.75
11.46
11.10
UBA
Commercial Bank
10.75
11.54
11.14
Visa
Payment Processor
10.65
12.26
11.45