Ibrahim Mahama Supports Viral Village Boy's Dream to Follow in His Footsteps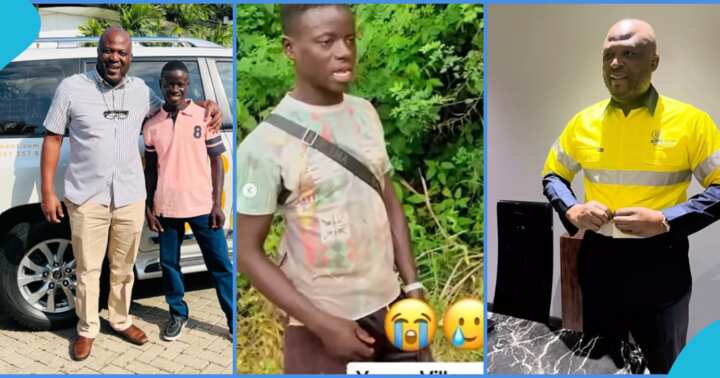 Ibrahim Mahama Village Boy Support: In a heartwarming gesture, renowned Ghanaian businessman Ibrahim Mahama has stepped forward to support a young boy from a village who aspired to emulate him in life.
The boy, Alex Ofori, gained widespread attention after a video of him bemoaning the lack of opportunities in his village went viral. In the video, Alex, who has learned the trade of masonry, expressed his desire to succeed like Mr. Ibrahim Mahama despite the challenges he faced due to his rural upbringing.
ALSO READ: GHANA TELECOM UNIVERSITY COLLEGE CYBER SECURITY COURSES
Upon learning of Alex's story, Ibrahim Mahama extended an invitation to him, bringing him from Bobikuma near Swedru to Accra. He also pledged to mentor Alex through his company, helping him further develop his skills in masonry.
"Ibrahim Mahama's attention was drawn to the video, and he promptly instructed his team to locate Alex and bring him to Accra for mentorship," reports indicated.
ALSO READ: GHANA TELECOM UNIVERSITY COLLEGE PROFESSIONAL COURSES
Additionally, the generous businessman provided support to Alex's family in Bobikuma, offering them food items and a substantial sum of money. This support was facilitated by @rafik_mahama89, an aide to Ibrahim Mahama.
The Ghanaian public has responded with gratitude and admiration for Ibrahim Mahama's commitment to uplifting the younger generation. Many have praised his generosity and expressed their belief that leaders and influencers in the nation should follow his example.
ALSO READ: Urgent Update: Anticipated Fuel Price Surge on September 16, Predicted by IES and Affecting Diesel and LPG Costs – Ghana Education News
In this heartwarming story, Ibrahim Mahama's benevolence shines as he takes steps to help a young boy's dreams come true, demonstrating the positive impact that mentorship and support can have on the future of Ghana's youth.
FOLLOW US ON X @(1) Ghana Education News (@GhanaEducation5) / X (twitter.com)