FAQ: GES Answers 9 CONFUSING QUESTIONS On Reopening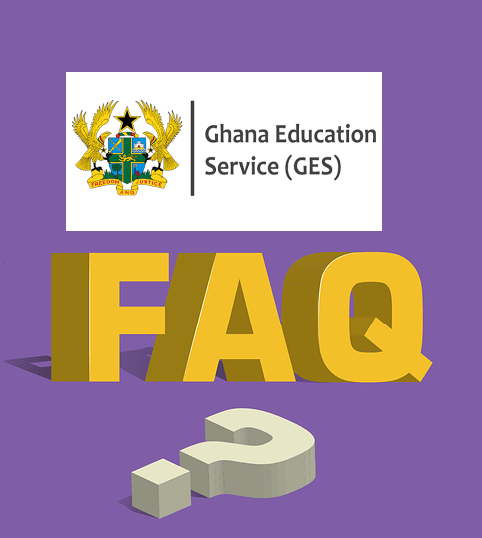 The Ghana Education Service (GES) has provided answers to all CONFUSING QUESTIONS on the reopening of schools.
READ:Basic-1-6 Weekly Time Table Out, Schools Close 12 Noon
Answers All QUESTIONS On Reopening
The Frequently Asked Questions and Answers are
FAQ 1:  Are our schools safe for kids under this COVID-19 pandemic?
Answer: On the advice from experts from the GHS. it is safe to allow students to go back to school, learning from the experiences from the partial reopening of schools for the 2nd and 3rd years of JHS and SHS.
Join our Whatsapp Group for up-to-date Education news >>>CLICK TO JOIN
FAQ 2: When will learners in KG, Primary, and JHS report?
Answer: KG to JHS will reopen on Monday, 18th January 2021.
FAQ 3: What measures have been put in place to ensure the safety of learners in schools under the COVID-19 pandemic?
The government of Ghana in collaboration with the Ministry of Education and the Ghana Education Service (GES) and Ghana Health Service (GHS) have undertaken the following measures to guarantee the safety of our learners and staff:
Disinfection of all schools before reopening.
Veronica buckets, soaps, hand sanitizers, and tissue papers to be provided to all schools.
Washable and reusable face masks to be provided for all staff and learners.
Provision of thermometer guns for all schools.
FAQ 4: Will the learners be promoted automatically?
Answer: Learners will move to the next level but would finish their lessons from where they left off before they continue with the syllables of their current class. For example, pupils in KG1 will move to KG2 and KG 2 to Primary 1 in that order.
Join our Whatsapp Group for up-to-date Education news >>>CLICK TO JOIN
FAQ 5: Why the need for semester calendar for JHS learners? 
Answer:  The new Common Core Programme (CCP) will run continuously for four (4) years from JHS1 to SHS1 beginning the JHS calendar from the current trimester to a semester as being run by the SHS will ensure progression of student and make up for the lost time.
FAQ 6: Will KG and Primary School run semester system as well? 
Answer: No!, KG and Primary will continue with the current trimester system.
FAQ 7:When will the SHS1 students report to school?
The SHS1 together with SHS2 Gold Track students will report on the 10th March 2021.
FAQ 7: Are Senior High School still going to be double track? 
Answer: As promised earlier, the Double Track System was a temporary intervention awaiting facility improvements in our Senior High Schools.
Accordingly, all SHS3 and SHS1 will now be together as a single track. Only SHS2 students in existing double track schools will change to run a Double Track System.
FAQ 8: Are schools going to allow social gatherings? 
Answer: As the President directed, only school-based religious gatherings are allowed in the schools. Even with that, schools are expected to avoid any kind of overcrowding during these gathering, most morning assemblies are encouraged to be held in classroom settings so as to reduce overcrowding.
Join our Whatsapp Group for up-to-date Education news >>>CLICK TO JOIN
FAQ 9: When will this year's WASSCE and BECE be written? 
In consultation with the examination body, WAEC, WASSCE has been proposed for September/October 2021 whereas BECE is proposed to be written in November 2021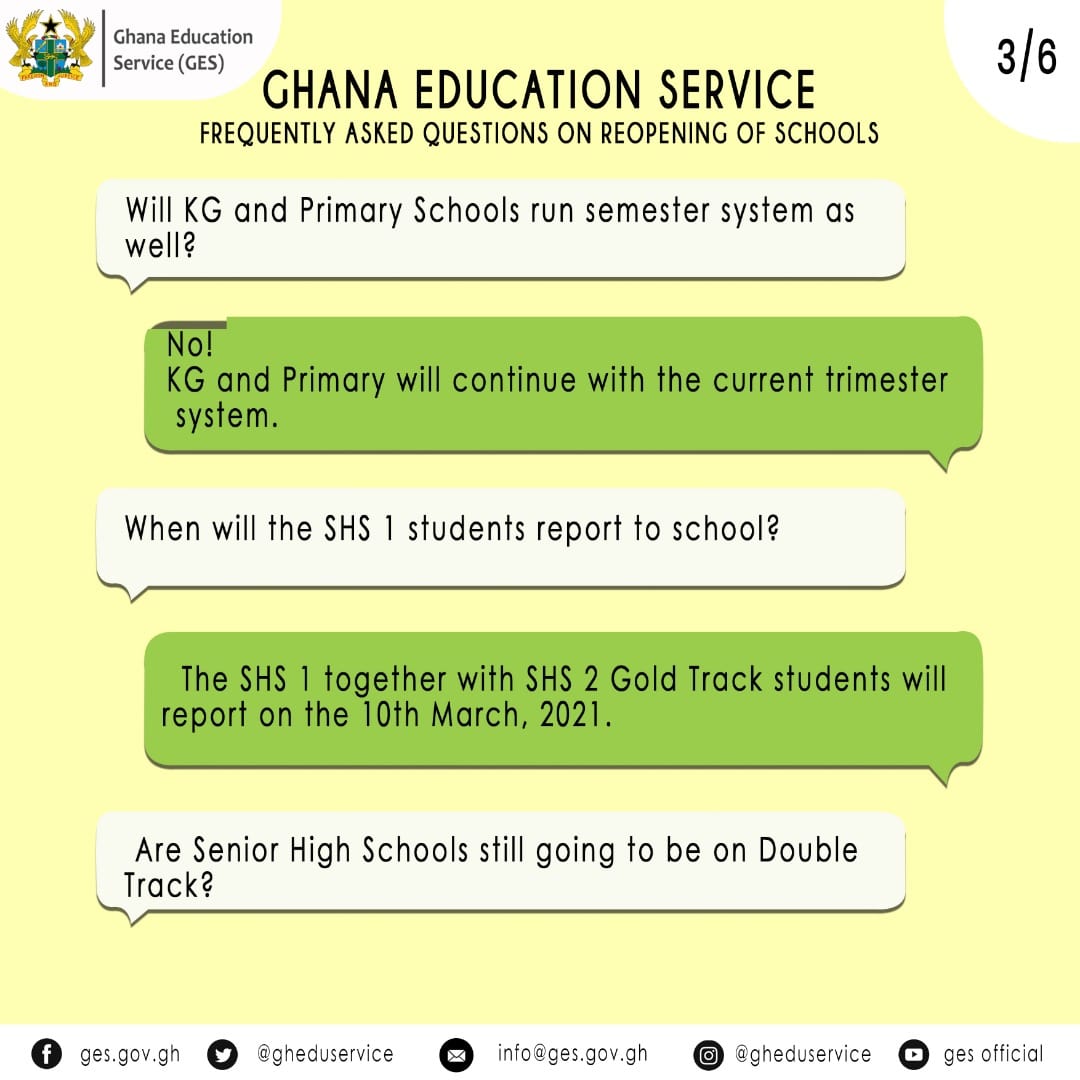 Source: Ghanaeducation.org