I Once Pushed Wheel-Barrow and Worked As A Shoe Mender – Nigerian Lecturer Narrates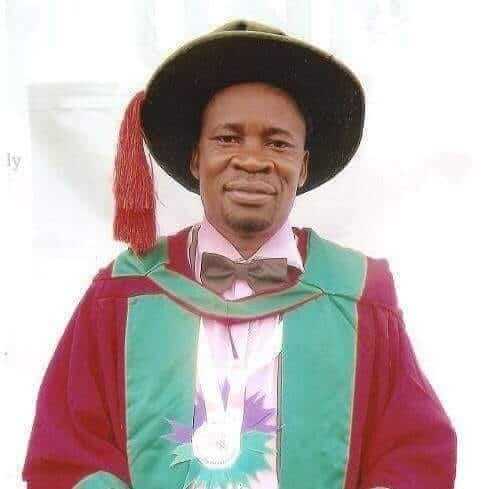 A Nigerian lecturer has taken to social media to narrate his life story; how he pushed so hard in life, once worked as a shoe mender and also pushed a wheelbarrow in order to survive.
The one thing he stood on was, "invest in people, not material things". The Professor is highly inspired by its own story, a story that will also inspire the youth and those who are on the verge of giving up.
Nicholas Asogwa, the Nigerian lecturer, who teaches at University of Nigeria, Nsukka (UNN) in Enugu State, South-East part of Nigeria.
The inspired lecturer, Nicholas Asogwa, is a lecturer at the Philosophy Department as the University of Nigeria, Nsukka. The then lecturer was recently, thus last Tuesday, elevated to the rank of a professor.
In his celebration of his elevation as a professor of ethics, Mr. Nicholas Asogwa revealed that he once pushed a wheelbarrow and also worked as a shoe mender in order to attain this greater height.
On Tuesday, during his elevation ceremony, Mr. Nicholas Asogwa read his piece which was titled, "My Journey To Professorship". A one inspiring piece, one that elevates not demote, one that encourages not discourages, one that inspires not dull.
He shared a text of his piece, "My Journey To Professorship" on his Facebook account. You can read it here.
Professor Nicholas recalled that he pushed a wheelbarrow through the markets of Orie Orba in Enugu State. He also disclosed that, he was a shoe mender at a female hostel in the University of Nigeria, Nsukka State.
The former Nigerian lecturer and now Professor, disclosed that he was born into a family of obsequious poverty. This family that he was born into, had no hope for educational opportunities, he had to strive hard to attain what he has attained now.
Upon realizing that his dreams were on the verge of falling, he put in his maximum effort, and now he is a celebrated Professor with an inspiring story.
This is a very inspiring story, and one that can motivate most of the youth of not giving up, no matter the situation.