'I will sue Akuffo Addo for corruption'- Lawyer Martin Kpebu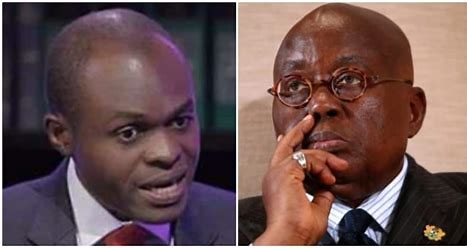 'I will sue Akuffo Addo for corruption'- Lawyer Martin Kpebu …In a recent interview on TV3/3FM's "The Keypoints," Lawyer Martin Kpebu made a bold declaration regarding his intentions to sue President Nana Addo Dankwa Akufo-Addo for alleged corruption once the President leaves office in 2024. Kpebu asserted that presidential immunity should not shield a former President from corruption charges and expressed his concerns about the delay in the removal of the former Minister of Gender, Children, and Social Protection and Dome-Kwabenya Member of Parliament (MP), Sarah Adwoa Safo.
Kpebu, a legal expert and commentator, raised questions about the extended delay in addressing the issues surrounding Sarah Adwoa Safo, suggesting that this delay could be indicative of potential corruption within the government. He explained that presidential immunity should protect leaders from certain actions but not from charges of corruption, emphasizing his commitment to holding President Akufo-Addo accountable for any alleged corrupt practices during his tenure.
ALSO READ: NPP lost 2024 elections in 2022 – Kennedy Agyapong admits
While the issue of presidential immunity has been a topic of discussion in Ghana's political landscape, Kpebu's stance highlights his belief that it should not serve as a shield against allegations of corruption. This perspective opens up the possibility of legal action against former Presidents in Ghana, challenging the traditional understanding of the scope of presidential immunity.
Richard Ahiagbah, the Communications Director of the New Patriotic Party (NPP), responded to Kpebu's statements by criticizing what he deemed as Kpebu's persistent and unexemplary criticism of the President. Ahiagbah's comments reflect the political divide on this issue, with different parties and individuals holding varying opinions on presidential immunity and accountability.
ALSO READ: UK government increases visa fees from £15 to £115; student visa fees up from £127 to £490
The debate surrounding presidential immunity in Ghana continues to evolve, with legal experts, politicians, and the public engaging in discussions about its scope and limitations. While Kpebu's intention to sue President Akufo-Addo for alleged corruption post-2024 is a notable development, it remains to be seen how this legal challenge will unfold and whether it will set a precedent for future accountability of Ghana's leaders.
As the 2024 presidential elections approach, the issue of corruption and accountability is likely to remain a central theme in Ghana's political discourse, with legal experts and politicians contributing their perspectives on the matter.
follow us on X @ (1) Ghana Education News (@GhanaEducation5) / X (twitter.com)