Mahamudu Bawumia Welcomed in Kumasi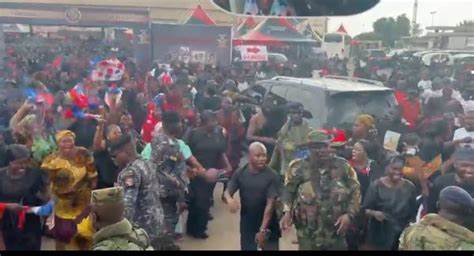 In a momentous event, Vice President and NPP Flagbearer, Dr. Mahamudu Bawumia, experienced a remarkable reception in Kumasi during his initial public appearance since being elected the new leader of the NPP. The occasion was the funeral of former First Lady, Madam Theresa Kufuor, held on a memorable Saturday.
This event served as a significant milestone, marking Dr. Mahamudu Bawumia 's first public engagement within the NPP stronghold since his recent election as the party's flagbearer. The atmosphere was charged with excitement as scores of people, who had also gathered to pay their respects to former President Kufuor's late wife, turned out in masses to welcome Dr. Mahamudu Bawumia upon his arrival at the funeral.
Accompanied by his wife, Samira, Dr. Mahamudu Bawumia made a striking entrance aboard his customary bus, with a delegation in tow. The charged crowd of mourners surrounded the vehicle, expressing their admiration for the NPP leader through spirited songs and chants.
also read: NDC MP "Vote For Us, NPP Is Stealing Dollars, We Will Only Steal Coins" – Ghana Education News
The overwhelming show of support is a testament to the strong backing Dr. Mahamudu Bawumia received in the Ashanti Region, the NPP's stronghold. During the NPP Presidential Primaries, the region played a pivotal role, contributing to nearly 70% of the votes cast in favor of Dr. Mahamudu Bawumia.
SHARE YOUR THOUGHTS ABOUT "Mahamudu Bawumia 's Welcomed in Kumasi ".
The warm reception in Kumasi not only underscores the immense popularity and support for Dr. Mahamudu Bawumia within the NPP but also sets a positive tone for his upcoming role as the party's flagbearer. As the political landscape in Ghana evolves, this enthusiastic welcome serves as a symbolic precursor to Dr. Bawumia's leadership journey and the party's collective aspirations for the future.
also read: Ken Ofori-Atta Eyed as Running Mate for Bawumia (ghanaeducation.org)
The funeral of Madam Theresa Kufuor provided a poignant backdrop for this significant public appearance, emphasizing the unity and collective spirit within the NPP as it rallies behind Dr. Mahamudu Bawumia's leadership. The charged atmosphere in Kumasi echoes the sentiments of a party and region ready to embrace the next chapter under Dr. Bawumia's leadership.
Share our post on " Mahamudu Bawumia 's Welcomed in Kumasi "
Teachers Updates and Credible teacher-focused news – Ghana … (bing.com)