Rapid spread of Apollo projected across all 16 regions- GHS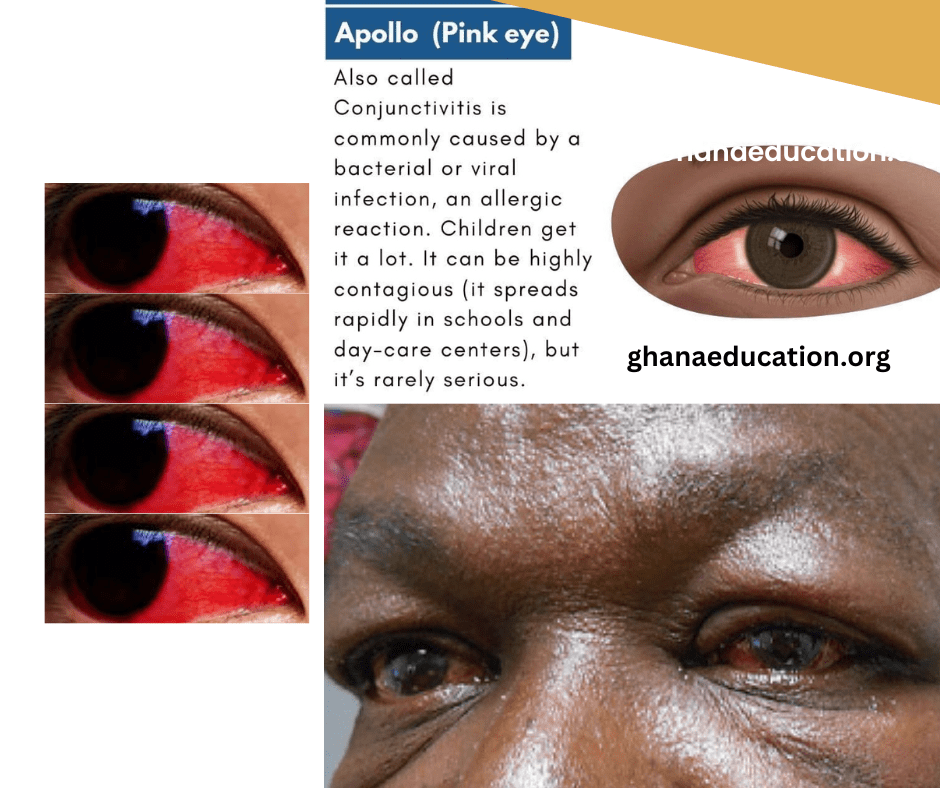 After the recent outbreak of Apollo in many parts of the country, the Ghana Health Service (GHS) has warned of the likely rapid spread of Apollo projected across all 16 regions.
The leadership of the GHS has therefore called on all to frequently wash their hands to avert the increase in Apollo (Pink Eye) cases.
Apollo (Pink Eye) which is medically known as Acute haemorrhagic conjunctivitis has been on the rise among children and adults in recent times.
The GHS has indicated that 50% of all eye-related problems reported to health facilities were linked to Apollo and health officials warn of a fast spread across all 16 Regions.
Dr. Franklin Asiedu-Bekoe, the Director of Public Health at the Ghana Health Service in an interview with Citi News stressed the need for individuals to refrain from touching their eyes and advocated for the promotion of frequent handwashing.
"This is about prevention, how do we ensure that people avoid touching their eyes, and we need to also promote handwashing," the Director of Public Health at the Ghana Health Service advised.
Acute hemorrhagic conjunctivitis or Apollo is a severe form of viral pink eye that could cause eyelid swelling, eye discharge, and bleeding. There's no cure, but treatments can help you manage the symptoms until the virus clears.
READ: Apollo Eye Infection: Causes, Effects, Prevention, and Treatment
Conjunctivitis ("pink eye") is inflammation of your conjunctiva, the thin membrane that covers your eyeball and inner eyelid. This inflammation is usually due to an infection, allergen, or toxin. Certain viruses can cause a specific type of conjunctivitis called acute hemorrhagic conjunctivitis (AHC).
In parts of West Africa, AHC is sometimes called "Apollo 11 disease" because scientists first discovered it in Ghana in 1969Trusted Source, the year of the moon landing.
AHC is typically much more severe than other types of conjunctivitis. Symptoms can include painful swelling and noticeable bleeding in and around your eye.
Causes of Apollo or Pink Eye
The causes of Apollo or pink eye can be divided into four main categories:
Viral infections: Viral conjunctivitis is the most common type of pink eye, accounting for about 80% of cases. It is caused by a variety of viruses, including adenovirus, enterovirus, and herpes simplex virus.
Bacterial infections: Bacterial conjunctivitis is less common than viral conjunctivitis, but it can be more serious. It is caused by bacteria such as Staphylococcus aureus and Haemophilus influenzae.
Allergic reactions: Allergic conjunctivitis is caused by an allergic reaction to a substance such as pollen, dust mites, or pet dander.
Irritants: Irritant conjunctivitis can be caused by exposure to smoke, dust, or chemicals.
In addition to these four causes, pink eye can also be caused by:
Blocked tear ducts: This is a common cause of pink eye in babies.
Contact lenses: Contact lenses can irritate the eyes and make them more susceptible to infection.
Eye injuries: A cut or scratch on the eye can increase the risk of infection.
Pink eye can be very contagious, so it is important to take steps to prevent it from spreading. This includes washing your hands frequently, avoiding touching your eyes, and not sharing personal items such as towels and makeup.
If you think you or your child may have pink eye, it is important to see a doctor to get a diagnosis and treatment.