September 7, 1817: Anglo-Ashanti Treaty signed
In the early 19th century, the British had buy gold and gunpowder occupied the majority of the forts along the coastline of the Gold Coast colony.
Led by King Osei Bonsu, the Ashanti charged southward and began to subdue lands towards to the coast. This race destroy the land of the Fante and other indigenous groups and won forts from other European powers, such as the Dutch at Kormantse, which had been a Dutch business headquarters and stronhlold fort and one of the trans-Atlantic slave trade.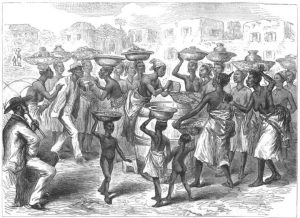 The British, in their concern to increase their possession and increase their business activities, they sent a delegate from Cape Coast to Osei Bonsu's palace in Kumasi to discuss a treaty of friendship which recognized Ashanti sovereignty over much of the coast. This delegation was led by Thomas Edward Bowdich in Mission from Cape Coast Castle to Ashante hene in 1819. The crown's interests in this treaty were brokered by the African Company of Merchants.
Due to the enforcement of the 1807 slave trade abolition, the company folded and the treaty was dissolved.
The First Anglo-Ashanti War began when the Ashanti claimed territory disputed with the Fante, a client state of Great Britain.  In 1823, Sir Charles MacCarthy, British governor of the Fante region, rejected the Ashanti claims and led a British army of 2,500 against the 10,000-man Ashanti army. On January 22, 1824, in the Battle of Nsamankow, the Ashanti defeated the British forces and killed MacCarthy. The Ashanti defeated the British and their African allies, the Fante and the Denkyirans, again in the Battle of Efutu later that year.  The British were forced to withdraw to their colony at Sierra Leone in 1828.  The war officially ended in 1831, after the Ashanti accepted the Pra River as the boundary between the British-controlled Fante coastal region and the Ashanti Empire.
The second Anglo-Ashanti War occurred between 1863 and 1864. In 1863, a large Ashanti force crossed the Pra River in search of a fugitive, Kwesi Gyana. British, African, and Indian troops responded but neither side claimed victory as illness took more casualties on both sides than the actual fighting.