See Ship Dealer`s Reaction after Shatta Wale gifted him Dollars😂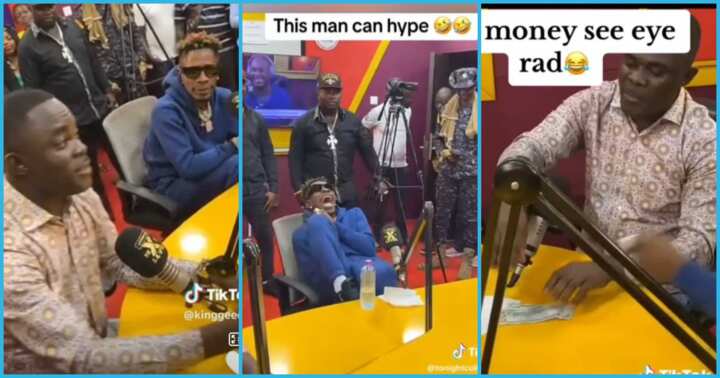 When worlds collide, sparks fly, and that's precisely what happened when Ghana's renowned Dancehall artist, Shatta Wale, crossed paths with Kumasi's media sensation, Oliver Khan The Ship Dealer. This chance meeting took place on Friday, September 15, 2023, at Pure FM in Kumasi, and it was nothing short of spectacular.
Shatta Wale, whose real name is Charles Nii Armah Mensah, was in Kumasi for a promotional tour, and as part of his itinerary, he graced the studios of Pure FM. What happened during that visit was pure magic.
The show was hosted by none other than the illustrious sports broadcaster, Bright Kankam Boadu. But what made this particular edition of the show extraordinary was the presence of Oliver Khan The Ship Dealer, a self-proclaimed wealthy man known for his humorous jabs and banter.
As the show unfolded, Oliver Khan seized the opportunity to shower Shatta Wale with compliments and accolades. He didn't hold back, describing the Dancehall superstar as the only true musician in Ghana and even drawing parallels to the Biblical figure of Isaac, the son of Abraham.
Oliver Khan's effusive praises and witty remarks had Shatta Wale in stitches. The Dancehall maestro couldn't contain his laughter as Oliver Khan's infectious energy and humor filled the studio.
What happened next was both heartwarming and generous. Shatta Wale, evidently touched by the genuine admiration and fun banter, reached into his handbag and pulled out some dollars. He handed these bills to Oliver Khan The Ship Dealer and Bright Kankam Boadu, the show's host, as a token of his appreciation.
ALSO READ: Ibrahim Mahama Supports Viral Village Boy's Dream to Follow in His Footsteps
While the video capturing this moment didn't specify the exact amount Shatta Wale gave to each of them, you could hear him saying, "this is two hundred" as he handed over the money.
watch video below:
https://www.instagram.com/p/CxOOqGtsC8j/?utm_source=ig_embed&utm_campaign=embed_video_watch_again
The entire encounter was a beautiful testament to the power of positive interactions and genuine appreciation. It showcased Shatta Wale's generous spirit and his ability to connect with fans and fellow personalities from all walks of life.
ALSO READ: 29 Courses at University of Ghana for SHS science students
As a delightful twist to this story, Oliver Khan The Ship Dealer was recently spotted at Kotoka International Airport, looking fresh and dapper as ever. He was welcomed by Appiah Stadium, who playfully teased him about his newfound fame and his improved appearance.
ALSO READ: Nursing Training School Prospectus
In a world where viral moments can sometimes be negative or controversial, this heartwarming exchange between Shatta Wale and Oliver Khan The Ship Dealer serves as a reminder that positivity, humor, and kindness can create memorable and uplifting moments that resonate with people far and wide. It's a story that brings a smile to our faces and warms our hearts.