Thomas Partey's Incredible Football Skills: The Unbelievable Video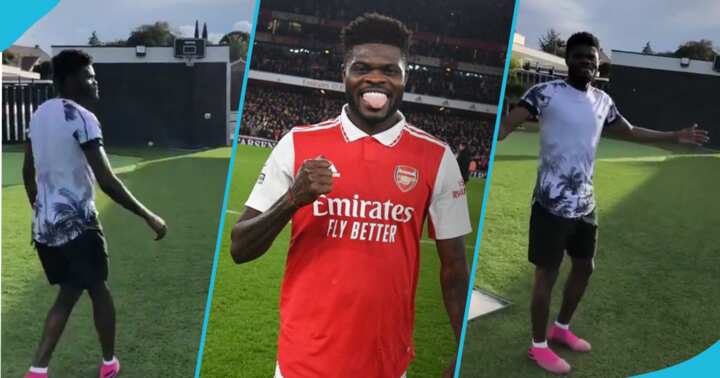 Thomas Partey's Incredible Football Skills: The Unbelievable Video
In the world of professional football, talent aYYnd skill are essential attributes that set players apart from the rest. One such player who has continually showcased his remarkable abilities on the field is Thomas Partey, the Ghanaian defensive midfielder who currently plays for Premier League club Arsenal. While Partey is widely recognized for his prowess in intercepting passes and breaking up opponent attacks, a recently resurfaced video has provided fans with a glimpse into another facet of his football skills—goal-scoring.
The Unbelievable Video
The video in question dates back to 2020, yet its impact has reverberated through the online football community, reigniting admiration for Thomas Partey's extraordinary talents. In this captivating footage, Partey finds himself in the backyard, and what transpires next is nothing short of awe-inspiring. With the sheer force and precision characteristic of a seasoned footballer, he delivers a powerful kick, sending the football soaring through the air and into a nearby basketball net.
ALSO READ: French Ambassador Hostage Crisis in Niger: Macron's Concerns
As the ball effortlessly lands in the basketball net, Thomas Partey confidently turns around, arms outstretched, and proudly proclaims his skillful prowess. It's a moment that encapsulates the essence of football—raw talent combined with years of practice and dedication.
The Skepticism and Reactions
However, the extraordinary nature of this feat has led to some skepticism among viewers. Many could hardly believe their eyes, considering the sheer distance and precision required to accomplish such a remarkable goal. Some even speculated that the video had been doctored, believing it was too good to be true.
Commenters shared their thoughts, with one user noting that Partey had attempted the kick multiple times before achieving success, a testament to his determination and dedication. Others questioned the video's authenticity, suggesting it might have been edited or paused at a crucial moment.
ALSO READ: Go and rest – Agya Koo tells Bawumia
While skepticism and debates about the authenticity of the video persist, one thing is undeniable: Thomas Partey possesses exceptional football skills that continue to astound and inspire fans worldwide. Whether on the field intercepting passes or displaying his remarkable goal-scoring abilities in the backyard, Partey's commitment to excellence and relentless pursuit of skill development are truly commendable.
As fans eagerly await his next on-field performance, this video serves as a testament to the incredible talent and dedication of one of Ghana's finest football exports. It is a reminder that in the world of football, moments of brilliance can arise when you least expect them, and for Thomas Partey, the sky is the limit in showcasing his remarkable skills and love for the beautiful game.
WATCH VIDEO BELOW:
Thomas Partey has magical feet🔝🔥🇬🇭#TV3GH

— #TV3GH (@tv3_ghana) September 15, 2023
FOLLOW US ON X @(1) Ghana Education News (@GhanaEducation5) / X (twitter.com)