WASSCE 2023 Chemistry Questions (Samples with Answers)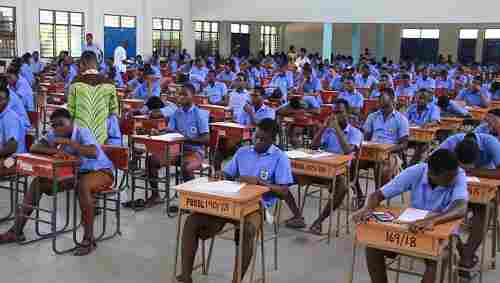 WASSCE 2023 Chemistry Questions (Samples) which come along with suggested answers have been shared in this post as part of efforts to help candidates revise with extra materials for the pending examination.
Chemistry Sample questions and answers for the 2023 WASSCE have been set to rest your readiness as a candidate for the exam.
The Chemistry paper will be written on Friday, 22nd Sept, 2023.
Make yourselves abreast with these sample questions and answers
1. How would you store hazardous materials in the store room?
A. On the floor
B. In the sink
C.On the bench
D. Below eye level
2. When diluting an acid with water, we normally always remember to add:
A. water to acid
B. acid to water
C. both at the same time
D. water to acid every 10 minute
3. In the laboratory, Mansa protects herself when working in the fume hood and handling hazardous materials. Which of the following is Mansa likely to be protected from?
A. particles
B. Volatile particles
C. toxic volatiles
D. volatile substances
Structure Of 2023 Subject Based Ghana Teacher Licensure Examination
4. In the event a chemical such as an acid or base gets into your eyes or on your skin, what should you do?
A. Immediately rinse affected area in running water for 15 minutes and get a cold shower if needed
B. Report to Public Safety
C. Run to get health services
D. Rinse the affected part with running water for 5 minutes
5. Which of the following chemicals can be used to neutralize spilled acid on the floor?
A. KClO3
B. NaHCO3
C. NaNO3
D.KNO3
6. Neutron was discovered by ————–
A. J.J Thomson
B. Chadwick
C.Rutherford
D. Priestley
7. Isotopes of an element have ————–
A. similar chemical and physical properties
B. different chemical and physical properties
C. similar chemical but different physical properties.
D. similar physical but different chemical properties
Dollar, Pound and Euros to Cedi Exchange Rates from Forex Bureaus For September 2023
8. Which of the following pairs of species represents isobars?
A. 3He2 and 4He2
B. 24Mg12 and 25Mg12
C. 40K19 and 40Ca20
D. 40K19 and 39K199
9. How many unpaired electrons are present in Ni2+ cation (Atomic no of Ni = 28)?
A. 5
B. 2
C. 4
C. 1
10. Which type of radiation is not emitted by the electronic structure of atoms?
A. X-ray
B. Visible light
C. UV light
D. γ-ray
ANSWERS
1. D
2. B
3. C
4. A
5. B
6. B
7. C
8. C
9. C
10. D